Hyperloop One Teases a Big Dubai Announcement on November 8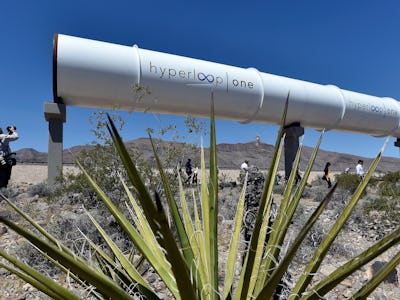 Getty Images / David Becker
While Americans are headed to the polls on November 8, Hyperloop One is teasing a big development in the future of hyper-fast travel. The company gave us a sneak peak at its vision for the future of mobility via a YouTube video released on Sunday.
So far, the details are scarce, but Hyperloop One is promising some pretty big things in Dubai. The new transportation system promises to reduced travel times. "Dubai to Abu Dhabi in 12 minutes, Dubai to Riyadh in 48 minutes, Dubai to Doha in 23 minutes, Dubai to Muscat in 27 minutes," the teaser boasts.
Dubai doesn't want to be a city that dreams of the future, it wants to be a city that lives in the future as evident by its lavish drone grand prix, insanely tall buildings, and jet pack-wearing first responders. It's also a shipping mecca, as the busiest port in the Middle East — Jebel Ali — is in Dubai.
If the world's largest man-made harbor wasn't impressive enough already, Hyperloop One is hoping its technology could transport incoming freight from container ships to a depot. This would increase the volume the port can handle — ultimately bringing in more money to an already wealthy area — while reducing freeway congestion and emissions.
Hyperloop One announced it was headed to Dubai back in September when the company sent engineers to join the Dubai Future Accelerators (DFA) — a 12-week program that brings high-tech companies from around the world to develop breakthrough technologies that will help solve large-scale social and environmental challenges.
As part of the DFA's automated transportation challenger, Hyperloop One is partnering with Dubai's Roads and Transport Authority (RTA). The duo hope to make the world's most advanced transportation infrastructure, with Hyperloop technology as the foundation.
The DFA program wraps up in December, and by that time, Hyperloop One hopes to have demonstrated to the RTA how its technology will benefit Dubai.
Earlier this year and amid several company scandals, Hyperloop One conducted a successful test of its propulsion technology in the desert outside Las Vegas.