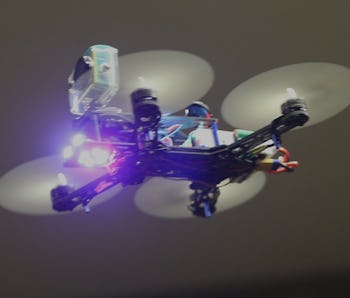 Culture
The Million-Dollar Dubai Drone Grand Prix Legitimizes Quadcopter Racing
Fast gets faster when there's money on the line.
Getty Images
Dubai, with its Akira-in-the-desert buildings and Gulf Futurism ethos, is welcoming the UAV entertainment complex with open arms and a World Drone Prix. If the World Drone Prix announcement this weekend veered toward the grandiose ("Dubai is no longer a city that dreams the future. It is a city from the future"), the purse is similarly outsized, offering a $1,000,000 prize to the team piloting a quadcopter to victory.
The first grand prix takes off March 11, 2016, but the aspirations go wildly beyond that. According to the spartan World Drone Prix website, the organization wants to "create the sport of the future that inspires billions." They'll have their work cut out for them: Drone racing is a tough spectator sport, as the devices themselves can be hard to see and streaming the first-person view of drone pilots is a bandwidth-heavy endeavor.
Details on exactly how the Grand Prix races will work are scant — the rules are coming out later in December, says Emirates 24/7 — but it appears as though qualifying races will take place in January on each continent. What sort of Ocean's 11 of drones do you need? A pilot, navigator, pit stop team, and leader, though it appears anyone with a drone, gumption, and relevant crew can sign up now.
This isn't the only group trying to mutate the nascent drone racing hobby into a capital-s Sport. FPV Racing and The Drone Racing League are trying to get the sport to take off in the U.S. If robots on the ground is more your style, check out Formula E's Roborace. If human competitors are more your style? Well, sucks to your fleshy ass-mar because the future's here and that means robots compete for our pleasure, dammit.