Cubs Fans' Long-Term Anxiety Also Made Them More Loyal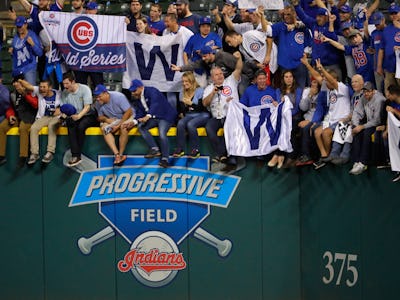 Getty Images / Jamie Squire
On Wednesday night, the Chicago Cubs beat superstition and fulfilled prophecy by winning the 2016 World Series. The championship win ends a 108-year-long drought for the Cubs and serves as a payoff for generations of fans who have remained loyal throughout decades of losses. Science suggests they sacrificed more than their emotions, though: The effect of long-term anxiety on the brain might be what led them to (correctly) believe they could achieve what seemed to be unachievable.
How was it that the fans were able to stay so loyal? The answer, in part, comes down to a little cognitive science. Studies show that some forms of stress affect the ability of the brain to retain memories. That means that while the bitter sting of defeat stresses out the brain, the intensity of that memory is most likely curtailed during the formation period. In other words, a fan will remember a loss — but not exactly how painful it felt when it happened.
Researchers believe that while moderate stress facilitates information storage, stress experienced acutely (like a single, very stressful experience) or severe chronic stress can be detrimental to memory function. It's important to note that this exchange of stress and memory can vary widely across people, but it's accepted that stress that lasts as little as two hours impairs the brain-cell communication in the amygdala and hippocampus, which are areas associated with learning and memory.
In a 2016 study on mice, Ohio State University researchers (sorry, Cleveland) found that long-term mental assault on mice created short-term memory loss. The researchers conclude that the measurable changes in the mouse brains (which they suspect would also happen in the brains of humans) was caused by inflammation of their immune system, which in turn was reacting to the outside pressure of stress.
Whatever neurological mechanism was at play in stressed-out Cubs fans, loyalty ensued, as the team's fans made clear on Wednesday night. "I just want to thank anyone who's ever put on a Cubs uniform and everyone who has ever rooted for the cubs," a very drunk Theo Epstein, President of Baseball Operations for the Cubs, told a very drunk Bill Murray. "It's been 108 years of love and support, and patience, waiting for a team like this to make it on a night like this."
So sure, it's not great that hormones released during long-term stress cause a "weathering of the brain." But it likely does make it easier to sit through 108 years of losses and emotional torture.