The Cubs Lost Their Chance at the World Series on 'Back to the Future' Day
Sadly, 'Back to the Future Part II' made the wrong prediction.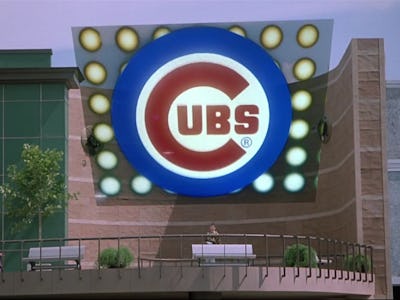 Screencap
Well, Back to the Future Part II lied and we did too. Leave it to the Chicago Cubs to get knocked out of World Series contention on Back to the Future Day, the date celebrating the movie series that predicted the team's glorious 2015 victory that won't happen.
You say you wish you could go back to the beginning of the season, put some money on the Cubbies? Stop me if you've heard this before, but: Wait till next year.
Despite the fact that director Robert Zemeckis' time travel sequel foretold a World Series win for the Cubs, they got bounced Wednesday by the New York Mets in Game 4 of the National League Championship Series. The movie got so much right about 2015, but why not this?
For one, Zemeckis and screenwriter Bob Gale aren't Nostradamus. As we pointed out before, it was a joke thrown in by the Chicago-born Zemeckis to make light of the still ongoing Curse of the Billy Goat that has kept a 107-year championship drought for the Windy City team.
But if the sequel has taught us anything it's that an alternate tangent in the space-time continuum can be created by people messing around in a time machine. That means we're just in an alternate 2015 that some Mets fan probably screwed up. All the Cubs fans need to do now is go back in time to make sure the curse against the team never happened, then head back to 2015 and voila. The Cubs will probably have dozens of World Series wins.
The unfortunate connections for the Cubs don't stop with BttF Day. The last time the Cubs were in contention to even sniff the World Series was in 2003 against the then-Florida Marlins. That team has since moved to Miami. And what team did Back to the Future Part II say that Chicago defeated to win the World Series in 2015? None other than the team from Miami, which in 1989, when the movie was made, didn't even exist yet.
Somewhere, Robert Zemeckis is sad, and these Cubs fans are too.