Apple Might Be Developing a Self-Driving carOS and HUD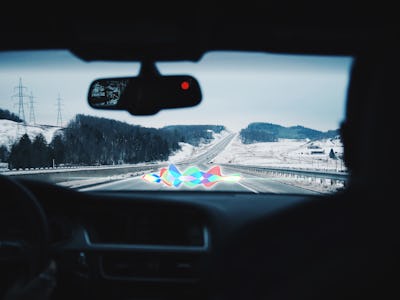 Pexels / Apple (Photo Illustration)
Recent reports suggest that Apple is working toward an operating system trifecta: Insiders "familiar with the matter" told Bloomberg in late October that Project Titan, Apple's top-secret car project, is taking a detour to first focus on a self-driving kit — along with an augmented reality heads-up display. A car operating system, complete with Siri and all your favorite apps. iOS and macOS: Meet carOS.
The informants wished to remain anonymous, but passed along ample evidence. First, Apple poached its new engineers from Blackberry's QNX division, which has long supplied automakers with operating systems. It didn't require the employees to relocate, though: The engineers work in a recently acquired Apple office across the street from QNX in Ottawa, Ontario. Among those poached was QNX founder and CEO, Dan Dodge, who left the company late last year.
Dodge is reportedly part of Project Titan's software team, which is flanked by a sensors team and a hardware team. Software plus sensors plus hardware equals an autonomous car kit, or so Apple hopes.
A self-driving operating system would be an audacious foray into an already overcrowded market, but current plans suggest the carOS would supplement your regular, dumb car. If true, it would be a new direction for Apple, which under Steve Jobs never allowed its software to stray beyond its own hardware. Current CEO Tim Cook hasn't been too careful with his words: He's previously suggested both a future Apple car and a strong interest in A.R.. (HUDs qualify as A.R.)
Any entrant into the autonomous car market must take on Tesla, which is already manufacturing what Apple is rumored to be perfecting: An autonomous car, with advanced sensors, software, and hardware, and a secure, in-house operating system to boot.
Musk has long suspected that Apple would become a Tesla competitor:
What Tesla does not have, though, is an HUD. (Nor does Tesla plan to release its autonomous systems as a kit: Musk, during a call with investors last week, said that Tesla's autonomous systems were too integrated and complex to release in that form.) All pertinent clues suggested that the Tesla CEO was biding his time until he unveiled the Model 3 HUD, but that no longer seems to be the case.
According to last week's report, Apple is using its various engineers to make the Siri-controlled carOS HUD a reality. "Apple engineers envisioned a heads-up display showing apps such as maps that could be manipulated by the company's voice-based digital assistant Siri, according to a person familiar with the matter," Bloomberg reports. Whether Apple returns to develop a physical car of its own remains to be seen, though current prospects don't suggest that it's likely.