People Are Getting Really Sick on a Soylent Product So It Got Pulled
One version of the future food has been recalled.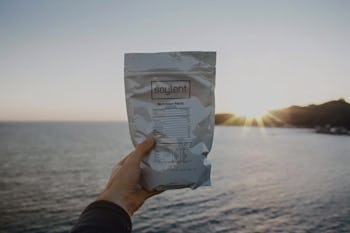 Soylent / Facebook
Silicon Valley's future of food looks a lot like tech: Whenever there's a bug, whether it's causing problems with a website, or making people sick, it's not always clear what needs to be done to fix it. That's why Soylent announced Thursday that it's pulling its powder product and reformulating its Soylent Bar, even though it doesn't know what's causing issues with either foodstuff.
Soylent's products are made from an assortment of ingredients designed specifically to offer the right amount of calories, nutrients, and flavor the human body needs. Some do-it-yourself variants on the concept exist, but Soylent is the biggest proponent of this nutritious-if-not-delicious concoction.
This news follows reports from Soylent customers on Reddit, and the company's own forums about people feeling sick after eating "Bar," or drinking the powder. Some users complained that version 1.6 of the powder — Soylent, like many tech products, is identified by number — made them nauseated, or caused acid reflux.
Version 1.6 of the powder had other problems, too. "I haven't been able to drink enough of the 1.6 to tell whether or not it makes me nauseated later," one user writes on Soylent's forums. "At this point, it tastes like rancid oil to me — with a bitter, synthetic aftertaste that is hard to get rid of — and has a snot-like texture that makes it really hard to swallow…" Another said 1.6 makes them feel like crap.
Others complained earlier this year that Bar made them vomit several times after they ate it. In response, Soylent halted all sales of Bar earlier in October, and advised its customers to throw away any bars they had already purchased.
Soylent's team said Thursday that it conducted "product testing, an exhaustive industry search, and discussions with many of our suppliers" to find the problem, but the tests "came back negative for food pathogens, toxins or outside contamination." Now it's focused on anything that might cause food intolerance.
Whatever the problem is, the company says that it doesn't affect Soylent Drink (the pre-made beverage meant to be consumed on-the-go) or the Coffiest product announced in August. Anyone who enjoys those products — or at least sees the benefit of drinking their daily calories and nutrients — can continue to do so.
These episodes highlight the problem with the food-as-tech philosophy that Soylent embodies. Silicon Valley is keen on disrupting the stuff we eat, with reasons ranging from wanting to fight world hunger to a desire for more money, and it's using the lessons learned from decades of technological innovations to do it. Most of the time that's fine, but a small "bug" has more profound implications when it literally makes people sick instead of just randomly forcing an app to quit.
Soylent's team said that it expects the reformulation of its powder and Bar to be completed in early 2017. It's advised consumers who haven't had problems with its powder to continue turning it into the almost-sweet mixture they've been drinking; anyone who has had problems with version 1.6 of Soylent's powder should reach out to the company, and dispose of whatever they have left.