Apple Is Taking Over Every Aspect of TV
Every program you could ever want.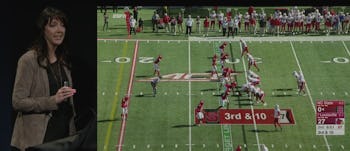 Apple
Apple TV has entered its final form.
The company announced an all-inclusive 'TV' app during a special event on Thursday. There were clues — like Tim Cook's wink toward TV during a shareholder's call on Tuesday — that something big was coming, and now we know what it is. The app will run on all iOS devices, like iPads and iPhones, as well as tvOS devices, like Apple TV's classic set-top box, bringing every aspect of TV consumption, including live broadcasts, under one user-friendly umbrella.
"We want Apple TV to be the one place to access all of your television, a unified TV experience that's one place to access all of your tv shows, and movies; one place to discover great new content to watch," CEO Tim Cook said during the event. "So today, we're announcing a new app, and we simply call it, TV."
Similar to the Apple Newstand app, TV will bring all of the ways you watch television into one system. After authenticating your various subscriptions, like HBO Go or your cable package, TV will keep everything signed in and ready, completely integrated with Siri and in a seamless format.
"It will completely change how you watch TV with your Apple TV, as well as your iPhone and iPad," Cook said. "Now with the TV app, there's really no reason to watch TV anywhere else."
If you already have an Apple TV box, the TV app will run right on the existing infrastructure, but eliminate the need for any other hardware in your home. You'll still need subscriptions to the services you want to use, but the sleek rectangle will be the only thing you need in your TV cabinet. For the first time, this includes live broadcasts as well — linking up a cable TV subscription will allow you to directly stream sports through Apple TV.
Essentially, this is Apple's final step in a year-long plan to consolidate and dominate every aspect of TV consumption. It's also a cut above its competitors, like Amazon, Hulu, and Roku, which only offer limited viewing options, and can't consolidate some of the outside streaming services (like live TV) into their programming. It's clear Apple isn't going away anytime soon.
Cook hinted at Apple's plans to revolutionize TV consumption during the company's shareholder earning's call on Tuesday, so there's a definite possibility that Apple TV might not be the company's last bomb to drop.
"I would confirm that television has intense interest with me and with many other people here," Cook said. "In terms of owning content and creating content, we have started with focusing on some original content. As you point out, we've got a few things going there that we've talked about, and I think it's a great opportunity for us, both from a creation point of view and an ownership point of view. It is an area that we're focused on."
In other words, the app is the first step, but Cook could be saying that Apple TV will eventually start creating original content, bringing the service up to par with Netflix, Amazon, and Hulu.
Cook said the app will be released through a free software update to iOS and tvOS devices by the end of this year.
This story is developing.