Amazon Hopes the Subscription Model Works for Podcasts
Audible now offers podcasts under a subscription model.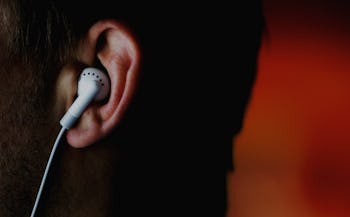 Getty Images / Ian Waldie
Amazon today announced it has launched Channels, a subscription audio platform that will operate separately and in addition to the company's audio book service, Audible.
The company is careful to not use the word "podcast" because it sees its content as something different than the traditional free programs many consumers enjoy today. Channels will host comedy acts, short stories, non-fiction accounts, talk shows, and audio versions of long-form print news pieces, presumably from the service's early partners including the New York Times, USA Today, The Wall Street Journal, and, or course, the Jeff Bezos-owned newspaper The Washington Post.
Much like Tidal and Apple Music scooping up exclusive releases from Beyonce, Kanye West, and Taylor Swift, so too is Audible trying to secure some exclusives that other free services can't offer. There are the media partners listed above, but there's also original programming that's more inline with subscriber's traditional notions of a podcast.
Presidents Are People Too will explore the private affairs of America's past presidents hosted by Elliott Kalan, former Daily Show head writer, and historian Alexis Coe. Moral City, hosted by former crime reporter Kathleen Horan, will explore the eccentric lives of people living on the fringes of a city. Damned Spot examines what happens to the places and environments after a tragic event occurs.
These programs sound fairly interesting, but it's unclear if podcast listeners are willing to pay $4.95 a month for the exclusive content, especially when similar programs can be found for free on iTunes today. (Whistlestop with John Dickerson, and Radiolab come to mind). Channels is included at no extra cost for subscribers to Audible's $14.95 a month e-book subscription service, which sweetens the deal.
But, Channels would probably need one of these exclusives to really break into popular culture in order for the service to take off. House of Cards was able to do that for video streaming when it launched Netflix into mainstream consciousness. Serial performed a similar feat for podcasts.
Audible confirmed to Inverse that Channels will be an ad-free service. A competitor in that space is Howl, an ad-free subscription service launched by Midroll Media last year, which is the home of Earwolf and Wolfpop, the podcast networks co-founded by Comedy Bang Bang host Scott Aukerman.
The monthly subscription model in music streaming is still hotly debated today with celebrities decrying its lack of compensation for artists. On the other hand, comedians and personalities on podcasts have been rather successful through the advertising model — just look at WTF with Marc Maron: he interviewed the president.
But, as more and more podcasts join the iTunes store every day, those advertising dollars are getting stretched thinner, and maybe the historically more lucrative subscription model will prove more lucrative for creators.