Beyoncé's 'Lemonade,' a Tidal Exclusive, Is Billboard's #1 Album 
Where to stream? That is now the question.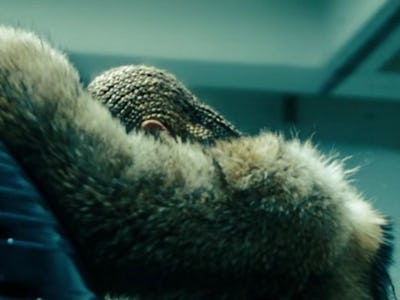 To no one's surprise, at least not to us, Beyoncé is No. 1 on the Billboard 200 chart. Her sixth studio album, Lemonade, "earned 653,000 equivalent album units in the week ending April 28, according to Nielsen Music," says Billboard.
The 12-song visual album became available to stream exclusively on Tidal on April 23, shortly after its same-titled film premiered on HBO. Up until April 25, when the album and film (together), became available for purchase, it earned 168,000 equivalent album units. Billboard reports that out of the sum, 485,000 were "pure album sales."
The album isn't available to stream outside of Tidal, and yet it's scored the biggest week of any album in 2016. (We'll see if that changes when numbers come in for Drake's Views debut.) It was no surprise that Beyoncé chose to go with Tidal to exclusively stream Lemonade, and although it felt like eternity, two days of exclusivity isn't major. But with the accompaniment of the late Prince's entire discography, we assume it's nothing but a win for Tidal.
So much of the conversation revolving the releases and exclusives of album as of late is about which streaming service will the artist partner up with, and why. Beyoncé with Tidal, Drake with Apple Music, Kanye West with Tidal, Rihanna with Tidal (and Samsung). We focus and debate on which streaming service each artist goes with as much as we once focused and debated the major label signing of an artist. It's no longer which label an artist is signed to (and why), but which streaming service they're tied to.
The goal of streaming services, at least Tidals from jump, is to give creatives respect — through recognition and compensation — when owning exclusive rights to stream and for some sell albums. It surely tests the loyalty and impatience of the fan: Do you wait until it's available in the streaming service you use the most or until you can purchase? Majority of Beyoncé's numbers came from digital album units. (Physical copies of the album won't be available until May 3.) While Tidal earnings are in the minority, Lemonade is still only available to stream on Tidal so it's a win win for Jay Z's streaming service, no matter where his reputation stands.