New Podcast Streaming Service Howl Is Audio Netflix 
'WTF,' 'Comedy Bang Bang,' and other hits now share an umbrella.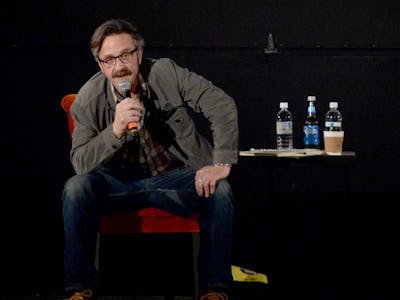 Getty Images
Podcast advertising network Midroll Media has relaunched Howl, an ad-free subscription listening app, in an attempt to create a network of podcast content akin to Netflix or Hulu. Complete archives of popular shows like WTF with Marc Maron and Comedy Bang Bang will be available for subscribers along with original shows and a library of Comedy Central specials.
Launched in May, the first iteration of the Howl app is a one-stop shop to house the comedy and pop culture shows produced by Earwolf and Wolfpop, the podcast networks co-founded by Comedy Bang Bang host Scott Aukerman and owned by Midroll. A free version of the app will carry on in much the same way, and a premium version will eventually roll out with a $4.99 monthly subscription and include all of Howl's content.
The move comes after Midroll was acquired by broadcasting company E.W. Scripps in July.
Midroll Media CEO Adam Sachs says the service will grow beyond the launch content and replace a la carte platforms like iTunes for people looking for a wide array of podcasts. "The medium and longer-term goal is to become the go-to listening player for all people who want to listen to podcasts," Sachs told Fast Company.
The move will let people pick and choose content as they please, but will also give Howl and Midroll the opportunity to create more experimental, one-off original content that wouldn't have been possible without a subscription service. "You could never afford to make an audio documentary that was just an hour long because you would never be able to monetize that with ads," Sachs explained, describing a sort of Chef's Table for the ears.
In effect, this podcast consolidation makes total economic sense because it provides podcast creators with a way to get paid and promote their work to a wider audience. In essence, it's the same thing that happened when nascent publishing empires like Conde Nast and Hearst decided to pull in different magazines to make ad sales easier and share editorial and business resources. How far Howl can push Midroll remains to be seen, but a streaming podcast service is the obvious next step after the medium blew up in recent years following the successes of Maron's show and Serial.
Head on over to Howl's website to check out its back catalog as well as the new content the app has lined up. There's Superego Forgotten Classics, where comedians Paul F. Thomkins, Jeremy Carter, Matt Gourley, and Mark McConville improvise classic books based on their first and last lines; a series by comedian Lauren Lapkus about the world of psychics; an audio documentary about the Gathering of the Juggalos; an in-depth history of Westeros called Hardcore Game of Thrones; and plenty more.