Steven Yeun Knew a Year Ago Negan Would Kill Glenn This Season
"I knew that it was coming eventually."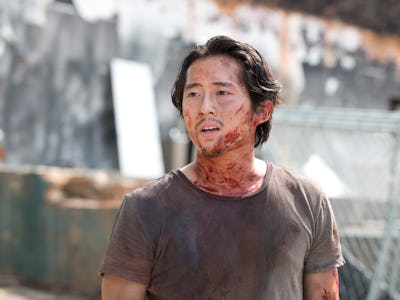 AMC
Fans of The Walking Dead are still mourning for Glenn (Steven Yeun) and Abraham (Michael Cudlitz), but the actors had a head start in the grieving process. In an interview posted after Sunday's Season 7 premiere, Yeun admitted he knew Glenn's time was up when production began on the sixth season last year, and that he was in fact excited for it.
"I actually found out at the beginning of Season 6," Yeun told GQ. "I knew that it was coming eventually, and I was excited about it. I obviously didn't want to leave the show and didn't want to leave the wonderful people on it. But it was such an iconic moment and a death that I couldn't let go to anybody else."
It was indeed Glenn's time to shine, bloody mug and all. The gruesome moment has become a point of debate and has fans wondering if the AMC zombie series did in fact go too far.
When Yeun learned of Glenn's impending death, it was actually the second time he received the news. In the summer 2012 as The Walking Dead was between its second and third seasons, Yeun learned for the first time that Glenn was going to die.
After reading the the 100th issue of the The Walking Dead comic book that summer, Yeun wrote a tongue-in-cheek letter of grievance to story creator Robert Kirkman, which was published in October in issue #102, just as the third season was about to premiere.
Yeun wrote:
Who do you think you are? Huh? Do you think you're some cool guy? Please! You're not a cool guy! You know who's a cool guy? Iceman from Top Gun. You know who else is a cool guy? Benny "The Jet" Rodriguez from The Sandlot. You know who else? Brad Pitt in Seven.
To Yeun, Kirkman was "the antithesis" of cool. He continued:
You're like Aqualad of Young Justice. You're like the TI-80s of all TI calculators. You are the stupid murder storyline in Friday Night Lights (he should have gone to jail).
The letter, which you can read in its entirety below, had Yeun questioning Kirkman: "What were you thinking?" That's a no-brainer; Kirkman was thinking of ratings. The show's Season 7 premiere decimated the ratings, beating Sunday Night Football like Negan beat Glenn.
The Walking Dead airs Sundays on AMC.