Glenn's Death Is a Blow to Asian-American Representation
Negan's gruesome kill can't stop the progress his victim made.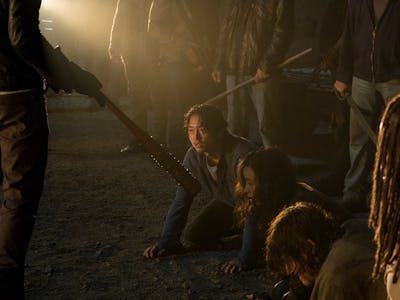 AMC
The Season 7 premiere of The Walking Dead was so unbearable for fans that it's become something of a Rorschach test. Negan's hyper-violent murder of two fan favorites, Glenn Rhee (Steven Yeun) and Abraham Ford (Michael Cudlitz), slipped the internet into an existential crisis, and critics have been discussing the show's emotional integrity. What kind of show should The Walking Dead be?
To a specific portion of the show's audience, Glenn's death was ruinous. Each smack of the bat to Glenn's skull was a funeral dirge for TV's most valued and visible representation of Asian-Americans, an image still largely absent in mainstream culture. 2016 was the year white-washing became a mainstream conversation topic, but the October return of The Walking Dead was a harsh reminder that progress is slow. Because Asian men don't occupy many important roles in American television, every loss feels monumental. After six seasons, Glenn's legacy will be the fact that he introduced "normal" Asian-Americans to mainstream, contemporary television.
Since he saved Rick from an undead horde in the pilot, Yeun's Glenn evolved from boyish survivor into the show's emotional and moral center. It mattered that Glenn's Korean ethnicity didn't matter at all to his manhood or his relationships with others; that reflection is the sort that Asian-America is often denied. As Walking Dead grew into a juggernaut influencer, it expanded pop culture's visual vocabulary to an archetype absent in fiction but ubiquitous in real life: the Normal, Capable Asian Dude.
In Georgia, for instance, where The Walking Dead takes place, Normal Asian Dudes are aplenty. Georgia's Asian population doubled from 1990 to 2000, and people who share Glenn's Korean ancestry are the second most-populous group of Asians in the state. Today, about 52,000 Korean-Americans call Georgia home.
The importance of non-stereotyped, "normalized" portrayals isn't lost on Steven Yeun. Before the Season 7 premiere aired, Yeun told GQ it was a "privilege" to play an Asian-American character "that didn't have to apologize at all" about his ethnicity. "I didn't get to see a fully formed Asian-American person on my television, where you could say, 'That dude just belongs here,'" the actor said. "Kids, growing up now, can see this show and see a face that they recognize. And go, 'Oh my god. That's my face too.'"
Unfortunately, that face was beaten to a pulp this week. Even if Glenn's arc was, indisputably, finished, it's still a bummer an important character like Glenn not only had to die, but exit one the most popular cable show in history with his eyeball dangling out of its socket. In a show like The Walking Dead, his wife Maggie's pregnancy only made both of them targets.
Even in 2016, there are so few examples of Asian leads free from stereotypical baggage and stories divorced of their race: the witty Ravi in iZombie, square-jawed Josh in Crazy Ex-Girlfriend, flamboyant Mateo in Superstore, Lucy Liu's gender-swapped Watson in Elementary, and the vigilante Daisy and stone-faced May in Agents of S.H.I.E.L.D. are such examples, who are allowed to be defined by traits other than their racial identities. Yeun's fan-favorite Glenn was among them, until Negan killed him, as he did in the comics. (Glenn was killed in The Walking Dead issue #100, recreated in the show frame for gruesome frame.)
But The Walking Dead alone can't eliminate images of the people Glenn represented. Asian-Americans are still one of the fastest-growing — and, let's be real, highly lucrative — demographics, and we're starved for validation in a pop culture-dominated landscape. In 2016, we've been told we can't be Marvel superheroes, we can't save the Great Wall, and now we can't survive the zombie apocalypse. But it's human nature to want to defy expectations, and even if Glenn is dead, the significance of his character will echo forward.