'Red Dead Redemption 2' Release and Trailer Date Confirmed
Ready to go back to the Wild West?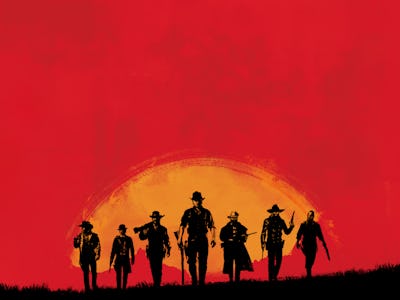 Rockstar Games
It's official. Rockstar Games announced Red Dead Redemption 2 on Tuesday, October 18 for PlayStation 4 and Xbox One, the sequel to the 2010 open-world Wild West game. Details are scarce, but a teaser site reveals the game is set for a Fall 2017 release, with a trailer arriving October 20 at 11 a.m. ET.
Rockstar posted a short description on its website:
Developed by the creators of Grand Theft Auto V and Red Dead Redemption, Red Dead Redemption 2 is an epic tale of life in America's unforgiving heartland. The game's vast and atmospheric world will also provide the foundation for a brand new online multiplayer experience.
That "online multiplayer experience" may have been revealed ahead of time, as Twitter user Bill Wright discovered hours before that Take-Two, Rockstar's publisher, has registered the domain name reddeadonline.com. That suggests the game may take a similar approach to the Grand Theft Auto series, where Grand Theft Auto Online exists as a largely separate experience from the main Grand Theft Auto V game.
Rockstar had teased the game on Monday, prior to its official announcement, with a Magnificent Seven-style poster that showed the team may be taking inspiration from the remake that debuted this year.
It's not clear how related, if at all, the sequel will be to its predecessor. Rockstar has a habit of reimagining its games and placing them in new settings, with entries in the Grand Theft Auto series making subtle references to characters in previous games. Indeed, the original Red Dead Redemption was a sort-of, not-quite sequel to Red Dead Revolver, taking heavy inspiration from the 2004 game while introducing a totally new storyline and characters.
Red Dead Redemption received critical acclaim upon release, and is fondly remembered by fans over six years later. Xbox One fans stormed the download servers when a backwards compatible version was made briefly available in February, slightly ahead of schedule. The pressure is on for Rockstar to product a sequel worthy of the beloved franchise name.