Rockstar Just Teased a 'Magnificent Seven'-Style 'Red Dead' Sequel
It's time to saddle up once again.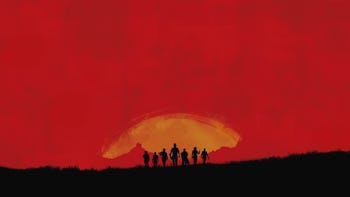 Rockstar Games
Rockstar Games has is getting our hopes up once again with what looks to be a teaser for a follow up to the 2010 open-world Western video game Red Dead Redemption.
Rockstar has shared two images on its company Twitter account at 9 a.m. ET on consecutive days that have sent fans of the franchise in a frenzy. The first, posted Sunday, shows a weathered Rockstar logo over a distinct red background. That's not a whole lot to go on, but it's hard to brush off that iconic Red Dead Redemption scarlet as mere speculation.
The second image, posted Monday, is again superimposed on that same familiar shade of red, depicting a host of seven shadowy figures in cowboy garb walking toward a setting sun. The same image is now a timed splash page on the Rockstar website, and the site itself is awash in red.
What does it all mean? Well, Rockstar is keeping quiet for now, probably delighting in fans' frantic excitement and frustration. It could be a sequel to the first game, but it's worth noting that Rockstar doesn't really specialize in chronological sequels, but rather thematic variations. The Grand Theft Auto series, for example, takes place across different cities and times. It's very possible Rockstar has a similar vision for their popular Wild West franchise.
But there are seven people in that photo, so our money is on a Magnificent Seven-style video game. The 1960 movie was remade this year.
Signs are also pointing to a prequel of sorts. Back in April, a leaked map of a Red Dead Redemption follow up popped up on NeoGaf. TechRadar confirmed with an anonymous source involved in the game's development that it was legit, and that the new game's story precedes Red Dead Redemption. The map is east of that of Red Dead Redemption's, and the two clearly link up, as shown in the same report. The map even features New Bordeaux, the setting of Mafia 3, which shares the same publisher overseeing Rockstar's titles, 2K Games.
All of this viral marketing comes at the perfect time, too, what with the incredible popularity of HBO's science fiction and western hybrid, Westworld. Whatever Rockstar has in store, there is most definitely something Red Dead Redemption coming, and we'll probably be hearing more about it soon, probably Tuesday at 9 a.m. ET.