The 5 Best Superhero Announcements From New York Comic Con
A list of the best superhero info we learned at NYCC — from comics to television to brand new movies.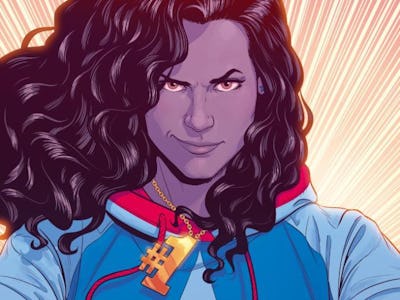 Marvel/Twitter
There are always gems hidden amongst the plethora of information bestowed upon us every year at New York Comic Con. The East Coast's 2016 Nerd Mecca introduced its record-breaking 180,000 attendees to a treasure trove this weekend, and it can sometimes be hard to pick out the diamonds in the rough.
Buried amongst the fan Q&As, vintage comics, original works of art, screaming crowds, overly enthusiastic moderators, authors, cosplayers, autographs, meet-and-greets, and the panels upon panels with writers, directors, and actors (deep breath) was actual information about all those aforementioned things. So, we thought we'd round up some of our favorite information that we gleaned from this weekend's hours and hours of precious entertainment news.
And while there were so many cool things, our favorite tidbits were about superheroes. So, below, you'll find a list of the best information we learned about superheroes during NYCC — from comics to television to brand new movies.
Batwoman is Still a Lesbian
DC announced a new Batwoman solo series, and we're pumped. Before the series itself — which will be written by Marguerite Bennett — is launched, though, there will be a Rebirth one-shot that gets her out of her current situation as the co-lead of the Detective Comics.
"I wanted to see her in a new environment. Just really test her and test her skills and test her values in ways that weren't explored as fully in Gotham," Bennett said at New York Comic Con. "In Gotham she has this family, we wanted to take her to a place that she's going to be on her own. She's going to pay for the consequence for the things that she's done in the past. She'll have to find her limits and find a place that she has privacy."
Bennett hinted that the new series might take place in the time period between Kate Kane (Batwoman) being kicked out of the military for being a lesbian and finding a new identity as the service-oriented, crime-fighting Batwoman. We know that period in Kate's life wasn't exactly a happy one, so we expect to see something pretty dark when the series launches in March 2017.
The Power Rangers Aren't Friends
Long gone are the Power Rangers we know and love — the goody two-shoes kids with hearts of gold and a pact of best-friendship 5ever. The Power Rangers teaser trailer, which was released online before the actual panel at NYCC, reveals the new Rangers as troubled youths with a tentative bond that spawns from their time together in detention.
Jason keeps totalling his dad's truck, Billy and Trini seem to be prime pickings for school bullies, Kimberly can't fit in with her normal gymnastics teammates, and Zack is doing some cool-guy loner thing.
It seems director Dean Israelite is really going for a modern-day origin story when Power Rangers hits theaters March 24, 2017.
Supergirl Won't Cross Over into Arrowverse
While the Flash showing up in Supergirl's National City was a fun — if slightly confusing — one-off crossover, it seems that Supergirl, Superman, and the Martian Manhunter will be staying firmly away from the rest of the Justice League for the time being.
Andrew Kreisberg, executive producer of DC TV's four-titled extravaganza (Supergirl, The Flash, Arrow, and Legends of Tomorrow), told Entertainment Weekly that Supergirl and the gang will stay firmly in their Earth-X (3?) universe, while The Flash and Arrow families will continue to hang out without them.
"Not for her entire world, but Kara will be traveling from her dimension to our dimension, "our" being the world that The Flash, Arrow, and Legends lives in," Kreisberg said.
So, we can look forward to more one-off crossovers. But don't look forward to any universe-bending plot changes to bring the worlds together and unite founding members of the Justice League. For now, that dream belongs firmly in the DCU.
Iron Fist's Fist Kinda Sounds Like the Iron Man Suit
The crowd at the Iron Fist panel lost its damn mind over the teaser trailer for Netflix's upcoming project, which is the last origin story installment before 2017's The Defenders.
As the fourth and final Defender, Iron Fist (Danny Rand, played by Finn Jones) has a lot to live up to. Luke Cage tore down barriers (and walls) to win over critics and fans alike, Jessica Jones ripped our hearts out (and kept them), and Daredevil is just as charming as it is epically violent. But if the crowd at NYCC is anything to go off of, fans are more than willing to welcome the final Defender with open arms.
The trailer depicts Danny meditating in a chic apartment, well-dressed Asian businesspeople, and a gold-glowing fist backed by a reverb that sounds eerily similar to Tony Stark's Iron Man suit right before it lets off a repulsor beam. While it's probably just sound effects to ramp up viewers's heartbeats when watching the trailer, we really enjoyed it.
America Chavez Finally Gets Her Own Series
She's here, she's queer, she's got abs of steel, and she's ready to kick your ass.
Marvel announced at NYCC that America Chavez — introduced in the Young Avengers comic series as the inter-dimensional flying superhero with bulletproof skin and super strength — will be getting her own solo series, America, in 2017.
Most notably, America's got a mouth like a sailor and a hard-headed determination far more pronounced than the other young heroes she's worked with in the past. Not to mention that America marks Marvel's first solo series about a lesbian superhero.
Basically, we're really looking forward to it.