What We Know About 'Justice League: Part One', Which Began Filming Today
DC's league of superheroes met in the UK today to begin working on Zack Snyder's Justice League team-up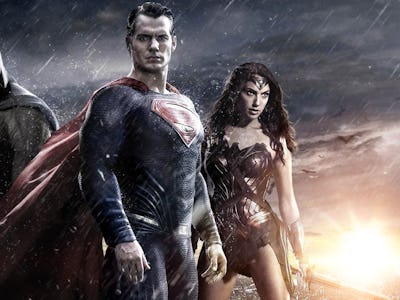 Justice League - Part One officially began filming today, so there's no better time to bring you up to speed on the Zack Snyder super hero epic.
Fabian Wagner, of both Sherlock and Game of Thrones, took over recently as cinematographer when Larry Fong, who had previously worked on most of Snyder's films, cited schedule difficulties and dropped out.
Filming was scheduled to begin in Scotland today, though producer Deborah Snyder told the press that locations in Iceland would be used as well. The film's set for a November 2017 release, and several online rumors have been circling about Aquaman's initial role as a villain.
Early reports of the film's tone describe the superhero team up as "extremely kinetic and visual," and Variety described it as being "more suited to Snyder's talents" than Batman v Superman had been. Snyder told The Wrap several months ago that Chris Terrio, the film's screenwriter, was excited about the larger DC comics mythology, and was going to explore the backgrounds of characters like Doomsday. We spotted Steppenwolf in a Batman v Superman deleted scene last month, which bodes well for Snyder's vision for a larger DC universe.
The cast of heroes includes Gal Gadot (Wonder Woman), Henry Cavill (Superman), Ben Affleck (Batman), Ezra Miller (The Flash), Jason Momoa (Aquaman) and Ray Fisher (Cyborg). The release dates for DC's superhero films were set back in 2014.