How the Other Justice League Members Appear in 'Batman v Superman'
The Flash? Aquaman? Green Lantern? Keep your eyes peeled in 'Dawn of Justice.'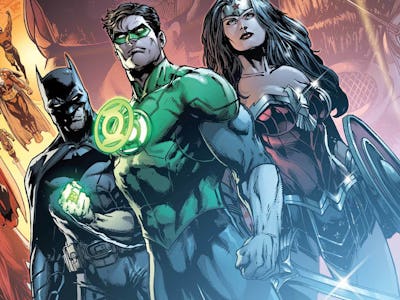 DC Comics
It's only a few weeks until Warner Bros. unleashes Batman v Superman: Dawn of Justice from director Zack Snyder on March 25. Though DC's two biggest superheroes hog the film's title, Dawn of Justice will be the jumping point to the DC universe with Suicide Squad following this summer, the stand-alone Wonder Woman, and then The Justice League Part One in 2017.
Fans have their fill of Batman, Superman, and even Wonder Woman in the Dawn of Justice marketing blitz, but little of the other Justice League have been seen. Jason Momoa as Aquaman had one promotional image released a long time ago, and he's been kept out of all the trailers.
But over the last few days in various reports, fans now have a better idea when and where the other DC superheroes come into play. So if you've been looking forward to seeing The Flash in the new movie, you may be in luck. Kind of. Here are where in Batman v Superman you can find the other DC superheroes, broken down per character:
Aquaman
Game of Thrones star Jason Momoa nabbed the role of Aquaman in 2014 and immediately turned around popular opinion that he's a totally lame superhero. Fans have been looking forward to seeing Aquaman on the screen, especially since Snyder's bomb-ass first look.
But according to Birth.Movies.Death. last year, Aquaman's presence in the film is minuscule.
"As of the shooting script Aquaman is barely even present, showing up only in a survey of metahumans by Lex Luthor and then again at the very ending, when Batman recruits him for the Justice League … Now, it's possible that as shooting has gone on and as the Justice League script has come into shape that something has been added to BvS. In the script Aquaman and Flash really just have cameos, but perhaps having the actors available and knowing where they're going in the future has allowed Zack Snyder and Chris Terrio to add in some tidbits about the future movies."
Later, the scoop site Heroic Hollywood allegedly learned Aquaman "is held prisoner in a containment chamber where we see his hand slap against the glass." The scene occurs during Batman's break-in into LexCorp.
But however he appears, Entertainment Weekly confirms from Zack Snyder himself that Aquaman is definitely in.
Green Lantern
"We didn't do a great job on that first Green Lantern movie," Warner Bros.' president of creative development Greg Silverman admits to EW. "This is a character who deserves to be treated in the same way that Batman and Superman and Wonder Woman are being treated now, which is with great reverence. I guess I can say to the Green Lantern fans: if they can be patient with us, I think they'll be really happy."
EW reports that Warner Bros. is holding off on Green Lantern — or a Green Lantern, as Silverman explains: "He's … multiple incredible characters," hinting the studio may use Kyle Rayner, Guy Gardner, or John Stewart instead of the more recognized Hal Jordan — until maybe the second Justice League in 2018.
Says producer Charles Rovens: "For now, we felt that we were introducing enough characters that the best possible place we could put Green Lantern is some introduction in Justice League 2, or barring that, a movie after."
It's understandable Warner Bros. is hesitant to use Green Lantern again. The fan favorite superhero's first movie was the 2011 flop starring Ryan Reynolds, who took Green Lantern to task several times in Marvel's superhero spoof Deadpool. But Green Lantern still remains a fan favorite character in the DC universe, so it's a bummer for fans of him that he's sitting out of Dawn of Justice.
The Flash
Fans of the scarlet speedster have had a riot with The Flash series on the CW, which has soared in its ratings and made grown men cry. But a different Barry Allen will be in the Justice League cinematic universe, and he'll be making a quick (pun intended) appearance in Dawn of Justice.
From EW:
"The film is laced with dream sequences for both Batman and Superman that hint at dangers to come — including the possible appearance of DC's galactic ultra-villain Darkseid. The Flash (played by Miller) appears in one such nightmare of Bruce Wayne's, delivering a cryptic message to the Dark Knight.
"Fans will have to debate whether it was really a dream, or maybe the kinetic hero breaking through time-space to deliver a warning. Synder calls this 'a giant Easter egg' that he hopes will spawn plenty of online theories. 'We had such a straightforward narrative, on one hand, I wanted this other layer of the movie to be complicated and bizarre,' he says."
The EW report also seems to debunk previous alleged insider reports Flash appears as a blur stopping a robbery.
Personally, I like that Flash plays messenger to Batman. There was a great moment in Flashpoint where (spoilers?) Barry gives Bruce Wayne a handwritten letter from his father after his time-crossing ordeal.
Cyborg
Of all the other Justice League members primed to appear in the DC cinematic universe, the least has been said about the living computer Cyborg. Actor Ray Fisher who is playing Cyborg was interviewed in the Dawn of the Justice League special on the CW, but like his other Justice League compatriots he's been left out of the trailers. The lengthy EW article confirms Cyborg is in, but how is left for fans to keep speculating.
It won't be for long, though. Batman v Superman: Dawn of Justice hits theaters March 25.