Marvel's 'America' to Follow a Foul-Mouthed, Queer Young Avenger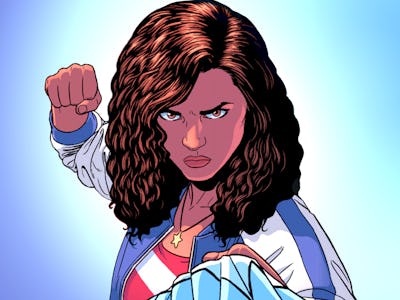 Marvel
Marvel just announced at New York Comic Con that America Chavez, a character who debuted in Young Avengers, will receive a solo comic book series in 2017. That series, called America, will be Marvel's first solo run about a lesbian superhero.
America, in the Young Avengers comics, was born on the planet Utopia (from another dimension) to her two mothers, who gave her the superpowers that she uses on Earth. Her powers include flight, bulletproof skin, super strength, and inter-dimensional travel. Because her first name is America, she chose Marvel's moniker "Miss America" as a crime-fighting identity, and has worked with both the Young Avengers and A-Force, Marvel's all-female Avengers initiative.
Notably, America is more hardheaded, confident, and outspoken than other Marvel heroes her age. Her traumatic childhood hardened her and made her far less patient with the average person than a character like, say, Miss Marvel.
America Chavez has already developed relationships with many of Marvel's more well-known characters, including Hellcat, Squirrel Girl, and Loki.
This news comes on the heels of Image Comics producing America Vasquez, a reworked version of the character whom Joe Casey and Nick Dragotta originally created for Marvel. Marvel's America will have at least one cover illustrated by Jamie McKelvie, who worked on the character when she appeared in Young Avengers. The coloring in Marvel's early art might look familiar to fans of The Wicked + The Divine: The series' colorist, Matt Wilson, has given quite a few titles his unique aesthetic, and it appears America will follow suit.
All of this means that both Image and Marvel will produce rival versions of the same character in 2017. That's a showdown America herself would be into.