Will Marvel Sue Over America Vasquez, Image's America Chavez?
They share creators in addition to a name, but not a publisher.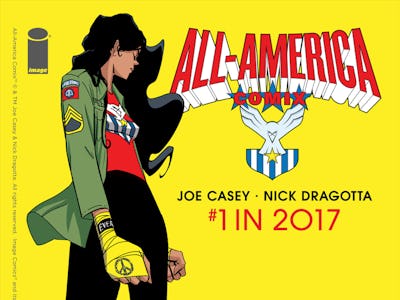 Nick Dragotta & Image Comics
The business of comics is no stranger to creators becoming frustrated with their creations. Or, perhaps more accurately, with the owners of their creations. The nature of these agreements often means original work gets left behind when relationships fade and deals dry up. All this is to say: it's not entirely weird that Image's newly announced All-America Comix stars a young woman of color with powers named America Vasquez from the same team that made America Chavez, a young woman of color with powers, for Marvel.
But, uh, it is a little bit.
First, the actual news: All-American Comix is coming to Image Comics from creators Joe Casey and Nick Dragotta. The first issue's set to drop in 2017, and the series stars a young woman of color described in the promo material as "[a] superpowered champion of the oppressed" that explores the mysteries of the universe and the secrets therein. That and the promo image are basically it for the time being as far as knowing what the series is actually about.
Casey and Dragotta are, as previously mentioned, creators of America Chavez — a superpowered teen typically called Miss America, or Miss America Chavez. She originally debuted in the Vengeance series back in 2011 before getting included in a much-lauded run on Young Avengers by Kieron Gillen and Jamie McKelvie. Recently, she's been a major part of A-Force, Ultimates, and more, though she still lacks an ongoing of her own.
Which maybe explains why Casey and Dragotta have turned to Image Comics in order to get it right once and for all. This isn't the first time creators have gone elsewhere only to recreate their previous success in a manner under their control. Leonard the Duck, for example, is notable for basically being Howard the Duck without all the strings attached.
Here's hoping Marvel has a sense of humor, and that they don't feel overly litigious.