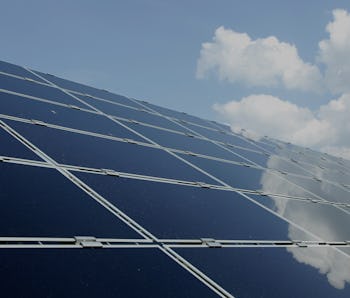 Innovation
Tesla's Solar Roof Could Be Right Around the Corner
Elon Musk hinted at its arrival on Twitter
Getty Images / Andreas Rentz
For most of us, Sundays are a day to relax. Not Elon Musk. The Tesla CEO, whose company is soon to acquire solar panel purveyors Solar City, announced on Twitter that there will be an event involving the two on Friday, October 28.
The merger of SolarCity with Tesla is estimated to be worth some $2.6 billion. This upcoming announcement could validate that merger by integrating batteries produced at the new Tesla Gigafactory with SolarCity's solar panels.
Thanks to previous tweets by Musk, we can expect to see the companies attempt to realize at least part of Tesla's Master Plan Part Deux.
That's right, Tesla solar roofs should be coming.
Musk wants to save humanity from itself. With a plethora of incredibly intelligent people at his fingertips, his grand plan to usher in an era of clean energy, is taking shape. SolarCity is a major part of that.
Musk announced another event on Sunday, too: On October 17, there will be a Tesla product unveiling that is "unexpected by most," Musk posted on Twitter.
See also: 3 Theories About Tesla's Surprise Product Announcement
According to SolarCity, an estimated 5 million people in the United States replace their roofs annually. Meaning that's 5 million people who could potentially cash in on the savings a shiny new, energy-efficient solar roof could deliver.
But, that's not all. Musk says that the new roof will come with a few Tesla accessories — namely a Powerwall battery and a Tesla charger, to create an all-in-one solar package. Imagine, you'll use solar panels on your roof to charge your car, and solar panels on your car keep energy levels high.
Musk also took time today to dispel any rumors of financial trouble, and quickly posted afterward: "Would also like to correct expectations that Tesla/SolarCity will need to raise equity or corp debt in Q4. Won't be necessary for either." He also noted that stability is probably expected to continue into the first three months of 2017.