3 Theories About Tesla's Surprise Product Announcement
Musk teases unexpected new product on Twitter.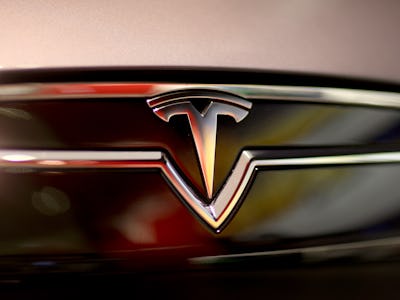 Getty Images / Joe Raedle
Hold onto your butts Tesla fans, Elon is just days away from revealing a new product. Musk announced the arrival of a new, "unexpected," Tesla product on October 17.
Both Tesla and Musk are gearing up for a busy month, as the mystery product will be publicized just two weeks before a Tesla-Solar City event on October 28, also announced Sunday.
So, what could this Tesla mystery product be?
1. Autopilot 2.0
The first possibility is that Tesla is prepping to reveal Autopilot 2.0. The upgraded system could enable the Autopilot feature to read stop signs and interpret traffic signals, a task the current version cannot.
2. Powerwall
Or perhaps it could have something to do with an at-home energy storage system, called Powerwall. According to Electrek, during Tesla's second quarter earnings call Musk revealed the new Tesla energy products could be unveiled in Q4 this year.
3. The Model Y
We could even see the first images of Tesla's next vehicle: The Model Y. It's no secret that engineering minds at Tesla have been working on a compact SUV to follow the Model 3.
Musk could be trying to capitalize on the rising demands for SUVs as automobile owners seem to be transitioning away from sedans. Competitors like Mercedes have already released their new SUV designs, which should hit the market in the next three years.
Is Musk trying to build hype for his next vehicle, or is the new product something else entirely? Only time will tell.