Here's How You Can Watch the Debate on Your Phone
The second round of Trump vs. Clinton right at your fingertips.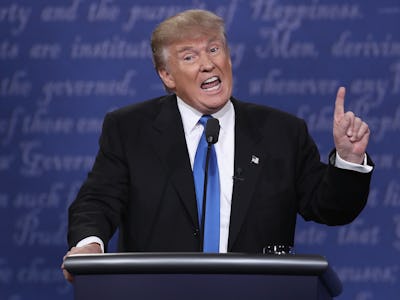 Getty Images / Win McNamee
Donald Trump and Hillary Clinton will face off tonight in the second of three presidential debates. The televised event will begin at 9 p.m. Eastern, but for those of you out there who've cut ties with cable, here's how you can watch it all right in the palm of your hand.
YouTube
Just like with the first presidential debate and the vice presidential debate, YouTube announced it will stream tonight's showdown across a number of channels including the Washington Post, PBS, Telemundo, and more.
Twitter
Bloomberg Politics will stream the debate live on Twitter tonight. You can follow along starting at 8:30 p.m. Eastern.
Facebook
Facebook is teaming up with ABCNews to live-stream the debate, along with commentary before and after the show.
Online
You can stream the debate either online or via news apps from your favorite sources like ABC News, NBC, CNN, Fox News, and many more. For a full list click here.
Snapchat
For all you happy snappers out there, Snapchat will be covering the event via a live story available in the app.
The debate will take place at Washington University in St. Louis, and unlike the first debate, tonight's event will be the town hall format. The two candidates will take questions from moderators Anderson Cooper of CNN and Martha Raddatz of ABC as well as from audience members like Ken Bone (who were all selected by Gallup and are undecided voters).
Election Day is around the corner and with the Republican candidate losing party support thanks to his latest debacle, this debate is one you don't want to miss.