How to Watch the 2016-2017 Formula E Racing Circuit Online
It all kicks off in Hong Kong this weekend.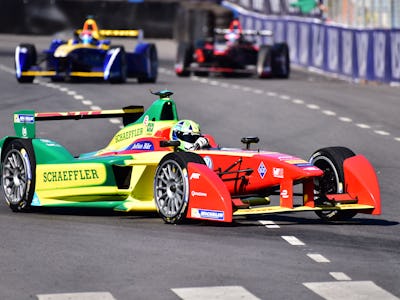 Getty Images / Getty Images Latam
It's 2016, and electric cars are really, really, ridiculously fast. And if Tesla cars aren't fast enough for you, there's only one option — Formula E.
Formula E is exactly what it sounds like — open wheel road racing in hyper-fast formula cars powered not by high-octane fuel, but by super-charged lithium-ion batteries. The third season of FIA's Formula E circuit starts in Hong Kong on Sunday, and we've compiled all the ways you can tune in to watch the action. There's a 12 hour time difference for the race in Hong Kong, but don't worry — the races are easy to find online when you wake up the day after and later races take place in much more favorable time zones for North American viewers.
And trust us, you don't want to miss it. By now, you might have seen the videos of Tesla vehicles beating Lamborghinis on the drag strip, but Formula E cars make Elon Musk's street-legal supercars look like golf carts. Here's everything you need to get into the action.
The official Formula E website is a good place to start. That'll give you background on the teams competing; including the U.S.-based Tesla competitor Faraday Future. The FIA website also has a full schedule of races. The main Formula E race is on Sunday, October 9, at 4:00 p.m. Hong Kong time, which means it's 4:00 a.m. Eastern in the U.S. If you're committed to staying up really late/ getting up extremely early Saturday night/ Sunday morning, you can watch the race live on Fox Sports 1 or Fox Sports GO (coverage of the main event starts at 3:30 a.m. Sunday morning). For a full U.S. TV schedule, click here.
Online Streaming
You can stream the races from countries outside of the U.S. and Canada online through the FIA website right here.
In America, as mentioned above, Fox Sports GO's Formula E page is your go-to for news, live streams, and highlights.
In the UK, ITV has the rights to Formula E events, which you can livestream online here.
After the race, the FIA site will post race highlights on the live-streaming page. It also maintains an active YouTube channel with highlights and features. Racing4everyone also posts full race replays and highlights after the races.
Other Events
There's a lot more to Formula E weekends than just the main Grand Prix event at each location. In particular, keep your eye on the Roborace, which pits a track full of autonomous racecars against each other. Autonomous driving might be the future of transportation off the track, and if Roborace is successful, it could take over the high-stakes racing world too. Formula E events have Roborace demonstrations and competitions on both Saturday and Sunday, so there's a good chance you can catch one of those before the main event.
The Rest of the Season
The Hong Kong race on October 9 is just the beginning. The next race is Marrakesh on November 12. On July 17, 2017, Formula E will come to Brooklyn, New York, racing around the Red Hook neighborhood. The 2016-2017 Formula E circuit ends with back to back races on July 29 and 30th in Montreal, Canada.