Driverless Cars Will Compete in Formula E Races
The teams will challenge each other with real-time computing algorithms and AI technology.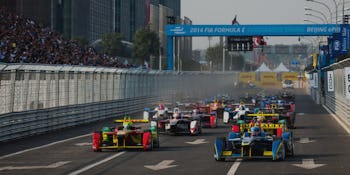 Fia Formula E
While we sit over here debating whether driverless cars will be ethical killers or easy to have sex in, Formula E has decided the vehicles are the next frontier in automotive entertainment. The fully-electric racing series and FIA single-seater championship have announced a new component to their program: a global race series for driverless electric cars.
Called ROBORACE, the series will premiere during the 2016-2017 season which culminates at London's Battersea Park. In this new format, 10 teams, each with two driverless cars, will compete in hour races throughout the season. The driverless car races will take place before their human-driven counterparts take the track.
"We passionately believe that, in the future, all of the world's vehicles will be assisted by AI and powered by electricity, thus improving the environment and road safety," said ROBORACE partner Denis Sverdlov in a statement. "ROBORACE is a celebration of revolutionary technology and innovation that humanity has achieved in that area so far."
Formula E hopes that these races will prove that the future of automotive and information technology is ready and will inspire further development of the technology. One of the race teams included in each competition will be a crowd-sourced community team open to "enthusiastic software and technology experts." The goal is that the next big idea in driverless tech will emerge from these competitions.
An announcement of the competing teams and the particular technologies they'll use will be announced in early 2016. Because there will be no humans to protect in the vehicle, it can be assumed that without the burden of safety hardware they'll go a lot faster than other Formula E vehicles. Kinetik, an automaker partnering with Formula E on this project, predicts that the cars could end up racing at 186 mph.
The deciding factor between the teams will be what algorithms and artificial intelligence they're able to create. If you've ever wanted to achieve James Hunt-level fame but don't want to literally burn out on the track, creating the most innovative driverless car technology is probably the best way to go.