All-Electric Formula E Racing Is Coming to New York City Soon
Watch top racers whizz through the Big Apple.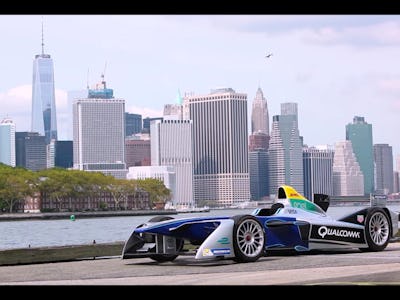 FIA Formula E Championship/YouTube
Formula E, the racing car championship dedicated to electric vehicles, is coming to New York City, the FIA announced Wednesday. The "New York City ePrix," scheduled for mid-July, will take place against the backdrop of one of the world's most famous skylines.
"I think it's an opportunity to see something new, to see something that will really blow your because it's so different to anything you've seen before!" said Alejandro Agag, CEO of Formula E, in a video.
The track covers 1.21 miles of Red Hook in Brooklyn, just across the water from Governors Island. Fans watching across the world will be treated to a backdrop of lower Manhattan as open wheel racecars whizz around the Brooklyn Cruise Terminal area.
"New York City is where technology, sustainability and commerce collide," city mayor Bill de Blasio said in a statement. "We are thrilled to be the new home of the ePrix."
Formula E has helped propel electric vehicle development in new and exciting directions. In July, the elusive Faraday Future electric car maker announced its intention to compete in the 2016/17 season, citing "a significant emphasis on electric performance and connectivity" as part of its reason for signing up. The company hasn't yet released a car, but reports suggest it is focused on the high end of the market.
The FIA has also expanded the competition to incorporate driverless vehicles. Roborace sees teams all receiving the same car, but having to design their own software. The innovative new race will feature in the 2016/17 season as a series of 10 events around the world.
Although Formula E takes place in an impressive array of cities, drivers are thrilled to be able to compete in New York City. "I think it will be an amazing event, particularly with that backdrop!" Sebastien Buemi, Formula E champion, said in a statement. "I can't wait to race there — I expect it's going to be one of the most spectacular tracks we have been to so far."