Faraday Future Says Its Tesla Competitor Could Get 30% Better Battery Range
Elon Musk has some bold competition.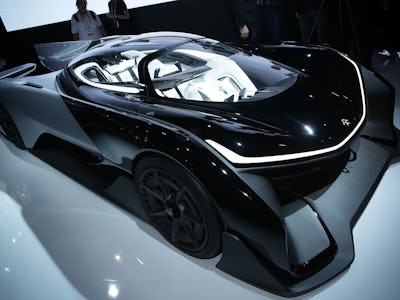 Getty Images
Faraday Future, the mysterious California-based electric car manufacturer, may be gearing up to give Tesla a serious run for its money. Speaking to The Verge, Farady Future's vice president of global marketing Dag Reckhorn said that the company has big plans to beat the competition on distance per battery charge. The company plans to release its first car within the next two years.
"We have goals, but we don't publicize them yet," said Reckhorn. "We have a target of 20 or 30 percent [battery range] over the competitor."
This secretiveness is a theme that runs throughout the company's operations, but Faraday Future has attracted big name investors that see potential. The company has ties to a Chinese multibillionaire, Jia Yueting, which the LA Times said has big ambitions to transform the car industry. Yueting is China's 17th richest person, with an estimated fortune of $7 billion. Faraday Future has serious money behind it.
The company's FFZERO1 concept car turned heads when it was unveiled at the Consumer Electronics Show earlier this year. The car featured a range of exotic features, including a steering wheel with a smartphone dock in the middle and a special "zero gravity driving position" to reduce stress on the driver's body.
Unfortunately, customers may be waiting a long while before they can get their hands on the concept car on display. "It was never meant to be a car that we sell to our customers," Reckhorn told The Verge. "I'm not saying it will never be the case."
Expect Faraday Future's product launches to follow a similar pattern to Tesla. Elon Musk's company started with high-end models before shifting towards developing more affordable vehicles.
"It will be a halo vehicle that will establish our brand and identity as we move forward into a larger range of vehicles that fill the need of a larger population," Nick Sampson, a senior vice president at Faraday Future, told the LA Times in November.