Everything We Know About Roborace, the First Driverless Car Race
First things first, the car is a traffic stopper.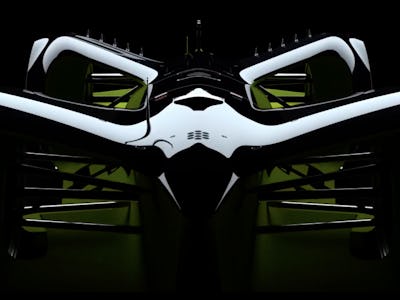 Roborace
Roborace, the first fully autonomous car race, recently released the design concept for its electric race car, and it looks just as futuristic and out-of-this-world as you would imagine.
Roborace is a race for people who are fans of high-speed racing, but hate the idea of putting highly skilled drivers at risk. Billed as "exciting races, without the ego," Roborace promises to put techies front and center when it shoots its first starting gun in late 2016 or early 2017.
The amount of conversation surrounding autonomous car technology and regulation has been escalating over the past few years. Whether we're talking about how people will have sex in them, watch more TV in them, or who will roll out a car to the public first, it's clear that having an A.I. personal driver is on people's minds. Autonomous racing seems like the next logical step.
After all, other futuristic, driverless race concepts, like extravagant drone races in Dubai, have already come to reality.
Many of the details about Roborace, such as who is participating and what the races will actually look like, haven't been announced. But here's what we do know.
The Car
Every team gets the same car, but has to develop its own software for the car. Luckily, for people who might be interested in watching the actual races, the car is better eye-candy than Google's half-dome-shaped autonomous vehicle.
The Robocar was designed by Daniel Simon, a car futurist who has worked for the likes of Volkswagen, Audi, Bentley, and Bugatti. He is also responsible for some of the vehicles seen in Prometheus, Captain America, Oblivion, and Tron: Legacy.
In the concept design, the vehicle features an open and curvaceous body and plenty of sensors. (And lots of room for potential advertisers.)
"My goal was to create a vehicle that takes full advantage of the unusual opportunities of having no driver without ever compromising the beauty," Simon explained in a statement.
The Races
Roborace is hosted by Formula E, an all-electric racing series, and backed by Kinetik, an investment company that wants to "disrupt markets, re-define industries and empower people to alter the way they live."
Ten teams running two cars each will compete in 10 races during the 2016-2017 Formula E season. The races will be in Buenos Aires, Paris, Berlin, Moscow, London, Beijing, Mexico City, Long Beach, Putrajaya in Malaysia, and Punta del Este in Uruguay. Cars will race around the tracks at speeds of more than 186 mph for one hour.
The Dream
Formula E hopes these races will provide a look into what's next for car racing. What they see is a future filled with autonomous and electric vehicles, and they believe that Formula 1-esque races can push the development of these technologies forward.
Without drivers or different hardware under the hood, teams have only one way to beat the competition: artificial intelligence. Nine teams will be regulars in the 10 races, and one team at each race will be crowd-sourced from "enthusiastic software and technology experts." This could be a chance for autonomous vehicle innovators like Google and BMW to jump in and test out their new technologies, while simultaneously showing the public how safe it is.
Autonomous vehicles are coming, it's only a matter of when and how they will integrate into everyday life. If everything goes according to Formula E's plan, the next big step in autonomous vehicle technology will be developed by a team competing in a Roborace.