Up to the Future: At the World Drone Prix in Dubai, They Don't Need Roads
Behind all the hype is a bigger plan to advance drone technology.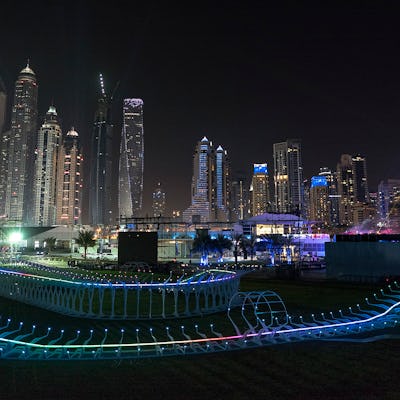 World Drone Prix
On Tuesday morning, a 12-digit number from Dubai flashed on my caller ID. I'd been trying to get in contact with a representative for the World Drone Prix for an hour, but with Dubai nine hours ahead of New York, I wasn't expecting a call back so quickly.
"The time difference is a little crazy," says Josh Weissman, the L.A.-based PR flack handling U.S. press for this first-ever drone race that boasts a lot of neon and a massive cash prize.
"Hello, Nickolaus!" It's the heavily-accented voice of Omar Al Olama, secretary general of the World Organization of Racing Drones ("Word."), coming through loud and clear. He's a busy man. The much-hyped World Drone Prix headline event was only three days away, and there was still work to do if the most extravagant drone race in the sport's brief history planned to live up to the high expectations.
As I was soon to find out though, Al Olama is in charge of much more than organizing an eye-popping drone race. He is in charge of jump starting Dubai's drone future.
Extravagance isn't an unfamiliar concept in Dubai. They claim the world's tallest building and a group of manmade islands in the shape of a palm tree. So when it was announced in December that Dubai will host a World Drone Prix with $1 million in prizes, it wasn't completely out of line with the city's reputation.
But Dubai wants the race to be more than merely a display of indulgent technological extravagance: It wants to use the race to inspire a drone innovation boom.
The leaders of the United Arab Emirates had kicked around the concept of a World Drone Prix for awhile, Al Olama tells Inverse. Sheikh Mohammed bin Rashid Al Maktoum and the UAE government recognized that drone technology — both civilian and military — has been advancing. The only problem is that it isn't advancing fast enough.
"It's like electricity," Al Olama said. "When electricity was discovered, people didn't want it. No one could really use it. We feel that drone technology has a lot of potential, and we want to show the way that the technology can be used and give people a way to show off their skills."
The UAE is banking on drone innovation partly because they see it as a large part of the future — a part of the future that will be a $4 billion industry by 2020.
The ultimate goal of the event, Al Olama says, is to draw positive attention to drones to spark innovation. And if there's a surefire way to get people excited, it's money. Lots of money.
Other drone races, like the World Drone Racing Championships, currently award cash and swag valued at $200,000.
That's pocket change for a sheikh.
"I told his highness $200,000 is a big amount," says Al Olama. "But if you really want to get attention, $1 million will get people's attention."
The sheikh agreed, but didn't want a single cash winner. A local award, team award, freestyle award, fastest lap award, and constructor award will join the overall race winner in receiving cash prizes. Race organizers hope that by doling out so much cash to so many people, interest will snowball and drive inventors to create faster and more advanced drones for future races.
It isn't the first time Dubai has used $1 million in cash to draw people in either. The Drones for Good Award gives $1 million to scientists who create new civilian drone technology for humanitarian uses. The challenge draws a good crowd, Al Olama says, but it attracts a certain demographic. Sports, on the other hand, are universal.
"Sport is something that excites people," Al Olama said. "It brings people together."
Wider interest will bring a bigger crowd and more competitors, which will lead to more innovation. In Al Olama's words, "it's the kind of experiment that really benefits everyone." By "everyone," Al Olama really means everyone, not just the 150 teams that qualified.
The World Drone Prix is organized with an audience-first mentality. Instead of fields and roads, there is a 2,000-foot-long aerial track shaped like an inverted rib cage — something that gives more perspective to the drones' 60-mph-plus speeds. Before the tracks were even complete, the public was treated to a steady stream of high-production promo videos on social media.
Yet "everyone" is quite a big term for a sport with events that are usually hosted in empty stadiums, dead malls, and over empty lawns. The World Drone Prix wants to legitimize the racers and the fans and bring them under one well-funded umbrella organization.
"What you will realize throughout the history of the sport is that it's been local races," Al Olama said. "They see each other on YouTube, but they don't know each other. This is an excuse to fly halfway across the world and meet the celebrities of the sport in person."
Before there is innovation, there must be interest. The World Drone Prix hopes to bring that interest to the world.
"The drones that were available less than 10 years ago both commercial and military, they were very primitive," Al Olama says. He believes the drone market has the potential to advance with the speed of the phone market.
If everything goes the way Al Olama and the UAE government wants it to, the inaugural World Drone Prix and the events to come in the future might just be inspiring enough to hook the next great drone inventors.
Oh, and you can stream the action on the World Drone Prix website.