World Drone Prix Teases Its Dubai Race With This Extravagant Video
And this latest World Drone Prix video elevates the hype.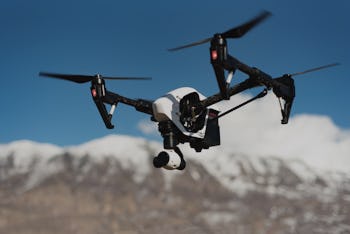 The organizers of the World Drone Prix pulled out all the stops with this new video posted today, showcasing the first-ever drone racing going down in Dubai this weekend.
We are rewarded with sweeping shots of two of the custom tracks at Skydive Dubai — the indoor qualifier track and the half-mile long aerial track. There is footage of drones testing the rainbow colored tracks (anyone else reminded of Mario Kart's rainbow road?) and engineers assembling the white frames of the course. To tie it all together, the video is accompanied by some dramatic mood music.
The World Drone Prix has been busy the last couple months hyping up the event with other over-the-top videos and quick clips on Twitter.
The last of the preliminary events are taking place today and tomorrow in Los Angeles before the final race. More than 100 teams from across the globe will participate in the race this weekend. The indoor qualifier track will weed the competition down to 32 pilots who will compete on the aerial course for the $1 million prize.
The races can be watched live on World Drone Prix's website.