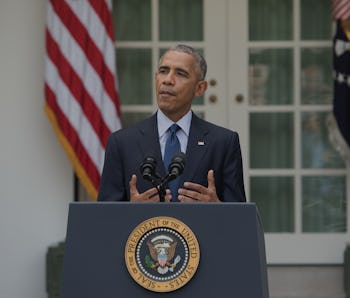 Science
The Paris Climate Change Deal Is Really Happening
Obama has pledged to fight for a smog free, sweet-smelling future.
Getty Images / Pool
Could the natural world 50 years from now be in better shape than the one today, in spite of climate change, in spite of population growth, in spite of humanity's bottomless demand for money and stuff?
That's the bold vision presented Wednesday by United States President Barack Obama during remarks at the White House.
"That's our most important mission — to make sure our kids and our grandkids have at least as beautiful a planet, and hopefully even more beautiful, than the one that we have," he said.
Obama announced that the United Nations has received formal support from enough countries for the Paris climate change agreement to come into effect this year. That will tie whoever wins the next presidency to the deal for at least four years, although Trump has pledged to try to get out of it.
So far, 76 countries representing 56.75 percent of global emissions have officially committed to the deal. It will come into force before the next UN climate change conference, COP22, to be held in Morocco next month.
Obama notes that the Paris agreement is only a first step to a fossil-free future. The commitments from all countries who have signed on still aren't enough to keep the world within two degrees Celsius of warming, which climate scientists have set as a target to avoid the most catastrophic impacts.
But the deal isn't just a starting point, it's a signal to Americans and the world that a transition is coming, and those who do not act will get left behind.
"This gives us the best possible shot to save the one planet we've got."
"It opens up the floodgates for businesses and scientists and engineers to unleash high-tech low-carbon investment and innovation at a scale we've never seen before," Obama said. "This gives us the best possible shot to save the one planet we've got."
The march of progress is sure to see future stumbles, but Obama has all but announced that he intends to spend his post-presidency career rallying the world in the fight against climate change.
He sees a future of smog-less cities, powered by solar and wind farms, filled with noiseless and exhaust-free cars. And that might just be something worth fighting for.