Huh, Elaine Quijano Sounds a Little Like Siri
The vice presidential debate was a thrilling viewing experience.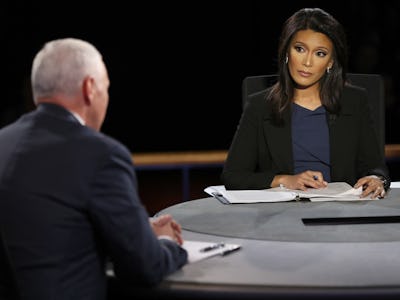 Getty Images / Joe Raedle
The vice presidential debate took place on Tuesday night, and it mostly featured two white men talking on top of one another. But, one lone voice and source of entertainment for viewers at home shone out amidst the din:
Moderator Elaine Quijano sounds kinda like Siri, huh?
Quijano, 42, is a first-time moderator. She's a daytime anchor at CBSN, the 24-hour live stream digital news service from CBS. She is Filipino-American, making her the first Asian-American journalist to host a presidential debate.
The debate was, uh, messy, with both candidates interrupting each other — and Quijano herself — several times, so it was hard to judge her performance as moderator, but people on Twitter wrote that what they could hear of her voice reminded them of a certain iPhone helper.
"Is the moderator the true voice of siri but backwards," Twitter user @BartHD2 asked. "They make the statements and she comes up with the 'next' question."
"In keeping with the mundane spirit of this #VPDebate, the moderator is Siri," @ErinSharoni wrote.
In other debate Twitter news, Donald Trump livetweeted the entire event. Unusually for the inflammatory tweeter, his tweets were largely boring, befitting the general tone of the event. He did, however, manage to retweet what ended up being a pretty amazing self-own.