The Very Best of Donald Trump's Twitter Q&A
It's safe to say the GOP frontrunner learned a lot from social media today. Or maybe not.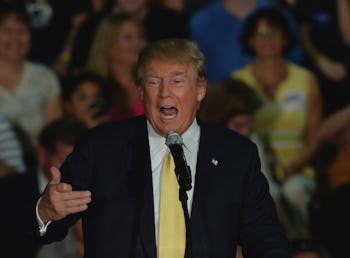 Getty Images
Some days, Twitter is an open sewer we all wade through just to get the daily news. Other days, social media actually giveth. Today, dear reader, is one of those days.
Presidential candidate and carroty business mogul Donald Trump participated in a Twitter Q&A today, and invited the good twitterers out there to use the hashtag #AskTrump to join the discourse. For every question about foreign policy or domestic issues, there are gloriously crazy insults and jabs being lobbied at the GOP frontrunner.
Here are some of the best selections:
Fun was had by all, but Trump had to actually answer some of these. For instance:
Here are his three priorities if elected.
He won't take a salary as President.
He's good at deflecting questions about gun control.
He has hilariously vague answers about combating homelessness.
His aides told him about football to try and make him appeal to the everyman.
He showed uncharacteristic self-control by not saying "You're Fired."
The Donald even managed to sign off with this photo of what we assume is his Madame Tussaud's wax figure.