Mike Pence Brings Up Cyber War, Pivots to Clinton's Emails
"We could put cybersecurity first if we just make sure the Secretary of State doesn't have a private server."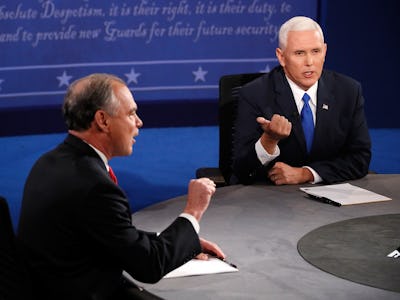 Getty Images / Pool
The first and, mercifully, only vice presidential debate took place on Tuesday night, and for while it looked like Democratic candidate Tim Kaine and Republican Mike Pence were going to repeat the first presidential debate's discussion of cyber war. But, instead, Pence quickly pivoted to Hillary Clinton's private email server.
After Virginia Senator Kaine mentioned strengthening America's cybersecurity while listing the ways the United States could strengthen itself, Pence asked moderator Elaine Quijano if he could return to the subject.
Pence: Can I speak about the cyber security surge at all?
Quijano: You can have 30 seconds, governor.
Pence: First is Donald trump just spoke about this issue this week. We have got to bring together the best resources in this country to understand that cyberwarefare is the new warfare of the asymmetrical enemy that we face in this country. And I look forward, if I'm privileged to be in this role of working with you in the senate, to make sure that we resource that effort.
Kaine: We will work together in whatever roles we inhabit.
Pence: I will also tell you that it's important in this moment that Hillary Clinton had a private server in her home that had classified information on it about drone strikes, emails from the president of the United States of America were on there. Her private server was subject to being hacked. We could put cyber security first if we just make sure the Secretary of State doesn't have a private server.
Cyber security is a very important, complicated issue, especially given the increasing amount of state-sponsored hacking (or a bedridden 400-pound hacker, as Donald Trump suggested last week). It's nice to hear the subject brought up in such a high profile debate, but the level of discourse could be, you know, better.