Why We Need to Treat Farming Like Artificial Intelligence
If we want to feed nine billion people in 2050, we'll need free access to data.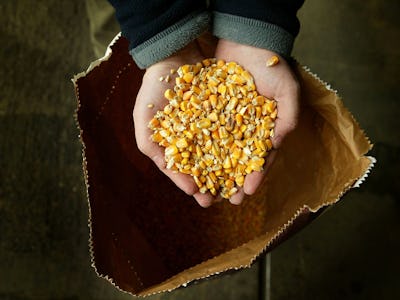 Getty Images / Scott Barbour
Caleb Harper, head of MIT's Open Agriculture Initiative thinks a principle that's advancing artificial intelligence — open-source computing — could also feed the world.
"We're getting all this data now," Harper said during "Feeding the Future," a panel held Monday at the one-day South by South Lawn innovation event on the south lawn of the White House. "It's either going to be owned, or it's going to be for everyone."
Essentially, the world's population is expected to balloon to nine billion by 2050. Somehow, we'll need to be able to feed everyone.
"We need to start thinking about the data around agriculture," Harper said. "And put it somewhere democratic so people have access for 10, 20, 50 years from now." Instead of keeping information about crops and how to optimize production under the lock and key of intellectual property protections like patents, Harper says it should be available to everyone.
It's not too different from how the internet remains open source. Or how artificial intelligence has advanced recently: Google notably made its A.I. software open-source and so has Facebook.
Because it's free and open to everyone, the internet has opened the door for some pretty amazing technology. Harper points to Facebook releasing open-source artificial intelligence software as an example of how companies can be transparent and help foster development. "It's about how many people you can get investigating and adding to one solution, and food is the most complex one."
Harper's lab at MIT works to advance this idea of open source agriculture with its food computers. These hackable and programmable greenhouses allow students and tinkerers to explore new ways of growing food in an urban environment. Students today, Harper, said "care about food, but they know nothing about it." What they do know is how to use technology. "They don't know exactly how it's grown, but they do know how to collect data and how to share that data with each other on a network."
Training the next generation of farmers is key because American farmers are getting old. "When they're not there anymore, who's there to pick it up?" Open source information about agriculture makes it easier for knowledge to be passed on, knowledge that will be needed to feed another two billion people.
South by South Lawn was modeled on South by Southwest, where President Obama spoke earlier this year.