Will Stephen Hawking Talk About Aliens at the Starmus Festival?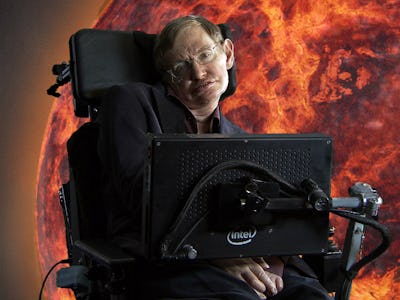 Lwp Kommunikacio/Flickr
It's time to book your ticket to Trondheim, Norway because there ain't no party like a space-and-chill party. The folks behind the annual Starmus festival announced Monday that the 2017 celebration, typically held in the Canary Islands, is moving to the "scientific capital" of Norway with the hope of expanding the audience by at least 9,000 people. Stephen Hawking is a Starmus board member and received a tribute last year. In 2017 he'll be the headliner.
"Life and the Universe" is the theme and will "celebrate a synthesis between science and music." It's an appropriate theme for an event known for bringing together the likes of Peter Gabriel, Richard Dawkins, and Brian May — all Starmus festival board members.
Created by Garik Israelian, a researcher at the Institute of Astrophysics of the Canary Islands, the move to Norway signifies a shift in bringing Starmus into the mainstream.
"This new location will enable Starmus to flourish in a vibrant cultural setting," say festival organizers. "The coast city of Trondheim combines beautiful landscape with scientific and cultural centers, including a Nobel Prize winning university with nearly a thousand years of academic traditions."
The July festival runs from the 18 to the 23 and tickets are available starting October 24. Hawking hasn't announced what he plans on discussing at Starmus, but we're willing to put up some money that his talk will either be about our inevitable doom, aliens, or our inevitable doom because of aliens.