Who Is Luke Cage? A Primer On Marvel's Hero for Hire
Get to know Harlem's new hero before he hits Netflix on September 30.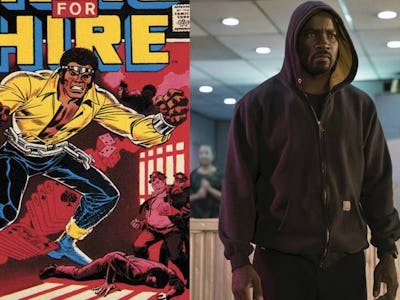 Marvel, Netflix
Fans of the Marvel Universe are about to fall in love with a bulletproof black man. After his debut in Jessica Jones, Mike Colter is back as Luke Cage in the character's solo series premiering September 30 on Netflix. But who is he?
A staple in Marvel since 1972, Cage was born Carl Lucas and grew up in Harlem as a gang member. Lucas wanted to become New York's top crime lord until he decided to go legit; meanwhile, his childhood friend Willis Stryker rose up in the ranks. The two stayed best friends until Stryker's girlfriend, Reva Connors, breaks up with him for Lucas. Stryker frames Lucas for possession of heroin, sending Lucas to prison where he was transferred to Seagate and became the subject of an experiment under Dr. Noah Burstein. Although the son of a Nazi scientist, Burstein took care of his patients and ensured that his experiments were voluntary.
Burstein's project involved an altered version of the Super-Soldier serum that created Captain America. A sadistic guard who enjoyed tormenting Lucas tampered with the procedure, hoping it would kill Lucas, but it only gave him superhuman strength and an invincible body. Lucas breaks out of Seagate and returns to New York to pursue a life of heroism — for a living. Carl Lucas becomes Luke Cage, Hero for Hire, and sets up shop in Times Square.
Cottonmouth, Cage's chief nemesis in the TV series — played by Mahershala Ali (House of Cards) — is later revealed in the comics to be partially responsible for Cage's imprisonment. It was his heroin shipment that Stryker — who later becomes the evil Diamondback — stole from to frame Cage. Besides superhuman strength, Cottonmouth has razor-sharp teeth and a surprising knowledge of chemistry, allowing him to prepare poisons for his vicious bites.
Also in the Netflix series is Misty Knight played by Simone Missick. In the comics Cage is forced to kidnap Knight for the criminal Bushmaster. That's when Cage meets Misty's boyfriend, Iron Fist, a mystic martial artist trained in the faraway land of K'un-L'un. Of course, Cage teams up with Iron Fist and Misty to rescue Bushmaster's hostages: Dr. Claire Temple, a nurse Cage had begun dating (Rosario Dawson in the series), and Burstein, the doctor that created Cage, who then also became a close friend.
Debuting in his own solo comic, Luke Cage, Hero for Hire, in 1972 (renamed Luke Cage, Power Man with issue #17), Cage was created by Archie Goodwin, John Romita Sr., and George Tuska as a tribute to the blaxploitation action film trope booming at the time. He later teamed up with Iron Fist in a series titled Power Man and Iron Fist which chronicled the duo's adventures as the Heroes for Hire, a freelance superhero agency funded by Jeryn Hogarth (Jeri Hogarth in Jessica Jones, played by Carrie-Anne Moss). Power Man and Iron Fist has been a popular title for Marvel with several volumes throughout the publisher's history. Deadpool even tried joining when he went back to the '70s, but it didn't work out so well.
As for Cage himself, his classic look has been a collared yellow shirt, silver bracelets, and, of all things, a tiara. Cage was at first kind of a caricature — he had his own catchphrase, "Sweet Christmas!" — but evolved into a more complex character over time. His wardrobe simplified too, down to black muscle T's and jeans. The dude prefers function, not flash.
Throughout his history, Cage has also been an Avenger and the appointed — by Steve Rogers himself — leader of the Thunderbolts. He's also married to Jessica Jones, and together they have a daughter, Danielle. Currently, Luke Cage and Iron Fist are a team again in David F. Walker's hyper-stylish Power Man and Iron Fist, a buddy cop-style romp with ties to Civil War II.
As for Luke Cage on Netflix, well, Cage has already been in Jessica Jones, but the true extent of his origins have yet to be known. Was Luke Cage's creation tied to IGH, the shady paramilitary group that also created Jessica Jones? How much of Seagate, teased in The Defenders trailer, will be seen in Luke Cage? More importantly, will Spider-Man tell Cage that Jessica Jones had a crush on the web-slinger? (Probably not, I just love this exchange from New Avengers.)
Marvel's Luke Cage premieres September 30 on Netflix.