Jyn Erso's Gambling Pays Off in the Final #GoRogue Fan Film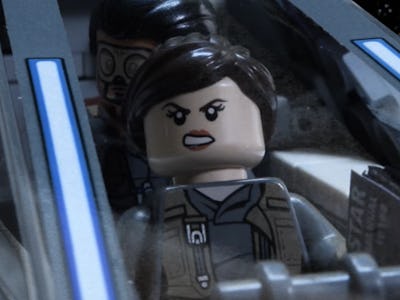 YouTube.com
The four-part Rogue One fan film Go Rogue has officially gone off-book in its last chapter, wrapping up this story with a happy ending that likely is not a true reflection of the fate awaiting Jyn Erso's crew in the gritty Star Wars prequel.
After having her whole plan kind of blow up in her face in the last chapter, Erso is prepping her exhausted and battered crew for a last ditch effort to save Cassian Andor and complete her mission to steal the Death Star plans. Here's where things go well in Toyland.
Erso's Lego counterpart manages to pull one over on the ever-grumpy Director Krennic, saving Cassian, destroying the Death Star plans, and successfully piloting her entire crew to a safe ending. Unfortunately, slick as Erso may be, history has already stated that the quest to retrieve the Death Star's plans was a costly affair in which several people lost their lives.
In other words, the odds are good that a lot of Erso's crew won't be coming home from the mission. After all, there must be a reason that it's Princess Leia and not one of Erso's crew who's racing to deliver the plans in the opening moments of A New Hope.
Of course, the tale of that bitter pill is a chore for Rogue One. Today, it's just nice to imagine piecing together the Lego bones of the galaxy's most fearsome battle station.