Bill Hader Will Bring Comedy to 'Power Rangers' Movie as Alpha 5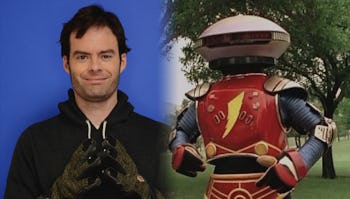 Getty/Saban Brands
Looks like the upcoming Power Rangers adaptation won't be too serious, because Bill Hader is reportedly playing the Rangers' loyal and easily rattled robot sidekick, Alpha 5.
According to Entertainment Weekly, the former Saturday Night Live cast member and current Documentary Now! star is joining Bryan Cranston and Elizabeth Banks in the hotly anticipated film version of the classic TV series.
In the original series, Alpha 5 was Zordon's No. 2 and assisted the Rangers in any way he could, even though he often panicked. His trademark expression was "ai yi yi," which he usually screamed when flustered and freaking the eff out. Essentially, he was the Power Rangers' C-3PO.
A lot of what we've seen of the forthcoming Lionsgate film looks like it's going to be at least a little darker and edgier than the lovably corny original series, as the Rangers, their Zords, and Rita Repulsa all sport more detailed and mature looks than we're used to.
Hader, though, is a comedic pro. If he's joining the cast of Power Rangers to play one of the series' most reliable sources of comic relief, it seems reasonable to think the movie might not go that much darker than its source material. Or, if it does, it'll at least have some laughs along the way.
Plus, Hader has played a loyal, funny robot companion before. In Star Wars: The Force Awakens, Hader and Parks and Recreation's Ben Schwartz teamed up to provide the "voice" of BB-8.
Power Rangers hits theaters on March 24, 2017.