'Documentary Now!' Shames Food Porn in Season 2
Series creators and directors Rhys Thomas and Alex Buono explain how they captured the absurdity of foodies.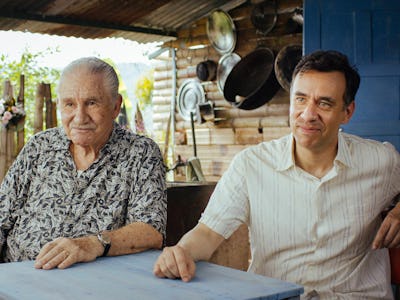 IFC
In the Season 2 premiere of Documentary Now!, comedians Bill Hader and Fred Armisen twisted political campaign docudrama of The War Room into a satirical version titled, "The Bunker." With politics out of the way, they got a little more contemporary with their skewering, this time with rice and chicken.
"Juan Likes Rice and Chicken" is the IFC mockumentary series' ingenious send-up of a recent spate of foodie docs such as Jiro Dreams of Sushi that chronicle the unhealthy level of perfectionism sought out by master chefs. Jiro, directed by documentarian and Chef's Table creator David Gelb, chronicles the story of the titular sushi master who must contemplate retiring and leaving his legendary restaurant to a son that may not have proper fish-rolling skills; the acclaimed film provides a loose template for Juan to stretch to its most absurd ends.
The episode, perhaps the best all-around story of the series so far, swaps a sushi restaurant in a Japanese subway station to a chicken shack in the remote mountains outside Bogota, Colombia. It's owned by the titular Juan, and like Jiro, Juan only serves a limited menu: he literally catches chicken outside a coop, and if he doesn't catch the chicken there isn't chicken on the menu that day. He is also dealing with questions about his future, and must contend with his son Arturo (Armisen, performing entirely in Spanish), who will take over the restaurant after his older brother abandoned them both to open his own buffet restaurant.
From its hilarious look at the way food documentaries are replete with heaping spoonfuls of the most scrumptious food porn you've ever seen to the way it lampoons snobby food culture, the episode continues Documentary Now!'s pitch-perfect, humorous homage to some of the most celebrated documentaries in cinema history.
In the second part of an interview with Rhys Thomas and Alex Buono, Inverse found out how the pair went about capturing the look of modern films and when documentarians become self aware.
What kind of details did you look for in a contemporary documentary like Jiro Dreams of Sushi for "Juan Likes Rice & Chicken"?
Alex Buono: That's less about trying to emulate production design and more trying to emulate a filmmaking style. If you look at Jiro and Chef's Table, which are both made by filmmaker David Gelb, he's created the style for this sort of food porn type show. It was rich colors, slow motion texture, detailed shots of hands making food, and beauty shots of the food.
Rhys Thomas: The visual language of the camerawork is something we try to pay attention to as well. When would they zoom? How fast are the zooms? Sometimes, like in The War Room and The Bunker, it comes down to the time period and what they were using, but there were a lot of little signifiers that helped you be accurate.
Was Juan Likes Rice and Chicken easier to do because it's based on something that's contemporary?
AB: You watch these things enough times and you recognize a pattern and realize what they're doing. At a certain point, you realize the pattern works and you lock in on it, and it's the same thing from when Rhys and I worked at Saturday Night Live for ten years. We've trained ourselves to identify patterns very quickly and grab on to them. We intuitively know what we can control and what we can't.
When we were trying to figure out how they did that with what lenses we were literally able to reach out and get specifics about that actual look from Gelb.
Have you gotten any feedback from any of the documentarians you've parodied, like Gelb or Errol Morris or people from Vice?
RT: We definitely felt a little nervous taking on landmark documentaries by documentarians who work very hard and tirelessly for little reward. There was part of me that always felt guilty that we were using their work as a shorthand for comedy. But some people from Vice came to our premiere last year and enjoyed being targets.
D. A. Pennebaker and Chris Hegedus who made The War Room came to this season's premiere and watched "The Bunker" with us. It was terrifying, but they said they enjoyed it and laughed at all the tiny details.
AB: For instance, we noticed James Carville would just sort of pick things up and wear them for awhile and we had Teddy Redbones, Bill's character, do the same. We had no idea what that was about, but we watched the episode with Pennebaker and Hegedus and they told us Carville was so superstitious that he wouldn't change his underwear or take off that big jean jacket.
RT: As documentary fans ourselves, getting that insight was such a thrill.
This interview has been edited for brevity and clarity