Apple Looks to "Active Fluid" to Make Its Watches Better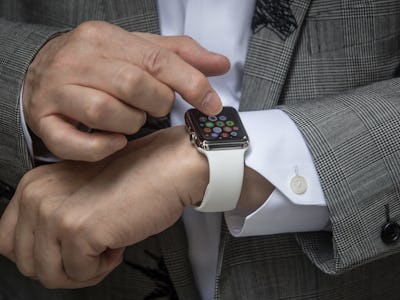 Getty Images / Chris McGrath
Apple has filed a patent application for an Apple Watch that uses "active fluid" to connect sensors in the watch's band to the processors within the main device. This could result in an Apple Watch equipped with more accurate sensors that hide in the watch band and only call attention to themselves when necessary.
The patent application was filed on March 17, 2015 and revealed to the public earlier today by the U.S. Patent and Trademark Office.
Apple explains in the application that the tech would use "transparent structures containing a transparent electrically conductive fluid" which are "used for aesthetically appealing designs and/or improved fatigue performance." Most of the images from the application depict a wearable device that looks a lot like the Apple Watch, which implies that this research is intended for that product line.
This system would basically allow Apple to include sensors in the watch band without having to worry about them breaking or being deemed unfashionable. The company might also use the tech to create simply displays that could show a message, for example, or glow a specific color when an Apple Watch owner uses the device. This could greatly expand the usefulness of these wearable devices.
This is Apple's latest attempt to make its smartwatch more appealing. It has also made the device more water resistant and convinced Niantic to bring Pokémon Go to the device so it can convince more people to buy it.
As exciting as these patents can be — well, most of the time — there's no guarantee the technologies described in them will ever come to fruition. Either way, though, it's clear that Apple isn't done with its little wrist-worn computer. You can see the full patent application with more details about the system below: