Here's How the Apple Watch 2 Ejects Water From Its Speaker
Swim without breaking your expensive watch.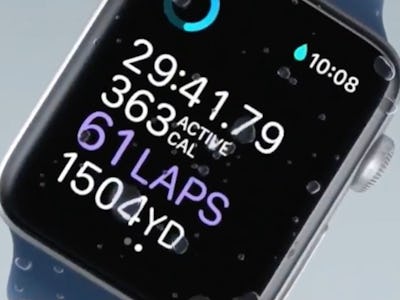 Apple
Apple took the wrapping off its second watch at its "Special Event" on Wednesday, and it's got the power to protect itself against water. The Apple Watch Series 2, designed for swimming sessions, is able to withstand water pressure to 50 meters. At those levels, electronic components can easily get ruined, so along with a redesigned sealing, Apple has modified the speaker with new anti-water powers. Here's how it works.
"At the end of the workout we use the speaker itself to eject the water," said Jeff Williams, chief operating officer at Apple, at the company's iPhone 7 event in San Francisco.
The original Apple Watch was no slouch when it came to water resistance. Rated to IPX7, the watch could withstand submersion under a meter of water for up to 30 minutes. Although third parties developed apps for swimming, the speaker was normally one of the first parts to fail.
In the original Apple Watch, water could flood through the speaker grille and collect in the internal cavity. The company could have sealed the grille like it did with basically everything else, but that could have hindered the sounds produced by the speaker. Apple needed a way to protect the speaker without interfering with audio.
In the comparison diagram above, Apple's redesigned speaker (right) places the vibrating component next to the grille, rather than inside its little air pocket. The company claims that when a user leaves the water, the component will vibrate to expel any excess water. If the original watch did that, the water would slosh around due to its awkward angle.
Until it's in customers' hands, it'll be hard to say for sure how well the system works, but Apple is confident. "We built a simulator to test the effects of swimming over multiple years," Williams said. "We put watches in there for 24 hours a day."
The end result is a watch capable of protecting itself against water, opening up athletes to a new range of workout tracking apps. "You can wear your watch with confidence in the water," Williams said.