Apple's Big iPhone 7 Event is Going Down on September 7
We're not 100% certain it's the iPhone 7, but we're pretty damn sure.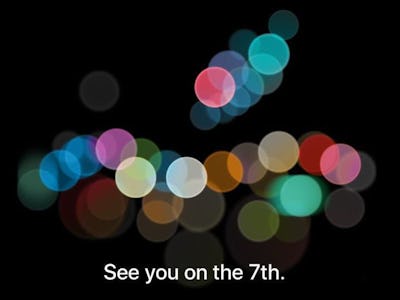 Getty Images
It's official: Apple's next event is scheduled for September 7 at the Bill Graham Civic Auditorium in San Francisco. CEO Tim Cook is expected to take to the stage at 10 a.m. Pacific, and if the event invite sent to the press is any hint, he's gonna announce the iPhone 7.
Apple's event invites tend to drop subtle hints about what to expect. The 2007 iPod touch launch invite featured a scrolling cover art design, while the Macworld 2008 invitation alluded to "something in the air" (which turned out to be the MacBook Air). For the iPhone 5 in 2012, the company went for a subtle-as-a-brick-wall shadow of a giant five.
This show seems to be no different. The Apple logo has been recreated with a bokeh effect, a feature of images produced by high-end cameras that results from a very shallow depth-of-field. iPhone cameras are good, but they aren't bokeh-good.
The iPhone 7 Plus is expected to introduce a new dual lens camera system, rumored to greatly boost image quality. Apple may not be directly implying that this dual camera system could produce bokeh, but it gives weight to the idea that the company has worked hard to boost quality.
With the current rumors about the next iPhone, camera quality may be a welcome focus (pun fully intended, deal with it). The new phone is expected to ditch the headphone jack in favor of Lightning headphones and Bluetooth connectivity. The iPhone 7 is also expected to retain the same design as the past two iterations, as rumors suggest the company is moving towards a three-year design cycle as mobile industry innovation gradually slows down.
Apple is also rumored to be introducing updates to its MacBook Pro and Apple Watch lines at the event. The former may receive a touch panel on the keyboard that can display context-sensitive tools, like formatting options when using TextEdit. The MacBook Pro is also expected to receive its first redesign in four years, as Apple moves towards thinner USB-C ports that support Thunderbolt 3.