Kelly Overton's Van Helsing Is a Murderous Athlete
The star of the new Syfy show 'Van Helsing' talks fake blood, fight scenes, and her character.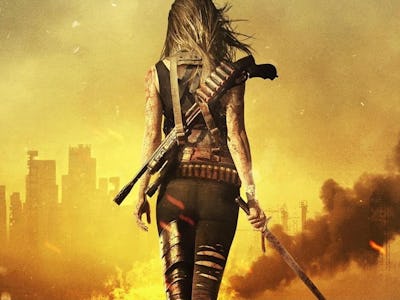 Syfy 
Kelly Overton is no stranger to vampires. Before taking on the role of Vanessa Helsing in the new SyFy original series Van Helsing she growled her way through a gig as a werewolf on HBO's nocturnal True Blood. With her flashing eyes and physical approach, Overton is a natural fit for a supernatural milieu. And she's very comfortable playing Abraham Van Helsing's daughter (yes, that technically means there are two pre-Helsing Vans) as the inheritor of a tough family business.
What's more surprising about the new take than its female star is that the story is set in a post-apocalyptic The Passage-esque world in which bloodsuckers run rampant. Vanessa doesn't have to convince people that vampires exist. She has to tell them when to duck and how to kick ass.
Overton gave Inverse a quick tutorial on doing the latter.
What initially attracted you to the role?
How athletic it was. That's always something I look for and am excited about when it comes along. I didn't know much about it when I got the script, so as I was reading it, I discovered that it was going to be really physical.
Do you do your own stunts?
As much as I safely can, yes. I love rehearsing for it and I love doing it on the day when we're shooting. It's just exhilarating and so much fun. But our stunt coordinator and my stunt double Holly Raczynski brought so much to the show and elevated what I did in the fight scenes.
Is there a downside to working with all that fake blood?
It's really cold and sticky and stains your skin for a while.
Do you have a favorite scene you filmed?
There are so many good ones. But I really liked shooting the scene of going into a coma on the first day of filming. It was one of those rare things that just came together.
What was it like working with the show's creator Neil LaBute?
He comes from an extensive acting background, and writes specific scenes for the craft of acting. When we started shooting, he said, "We want to push you guys as actors to do something that's never been done before."
We tried to show up every day and leave room for the unexpected. With fight scenes you obviously have to rehearse, but with the dialogue scenes, we left ourselves a lot of room to spontaneously make choices that weren't premeditated. We had freedom to push ourselves.
Van Helsing premieres on Friday, September 23 on Syfy.