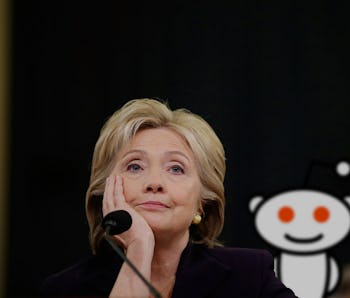 Culture
Hillary Clinton's IT Guy Might've Asked Reddit for Help
The theory arose on /r/conspiracy and /r/the_donald, for what it's worth.
Getty Images / Chip Somodevilla
Welp. It appears that Hillary Clinton's former private computer specialist may have turned to Reddit for help hiding the former Secretary of State's email address from appearing in a plethora in emails way back in 2014.
In the now-deleted post, which can be seen in its archived form here, a user named Stonetear wrote, "I may be facing a very interesting situation where I need to strip out a VIP's (VERY VIP) email address from a bunch of archived email that I have."
According to Redditors who spotted the post and concocted this theory on /r/conspiracy and /r/the_donald — Donald Trump's official subreddit, so, you know, grain of salt — Stonetear was actually Clinton's computer specialist, Paul Combetta. Combetta is an engineer for Platte River Networks, a Denver, Colorado IT firm that was hired to manage Clinton's private server.
The full post reads:
Hello all- I may be facing a very interesting situation where I need to strip out a VIP's (VERY VIP) email address from a bunch of archived email that I have both in a live Exchange mailbox, as well as a PST file. Basically, they don't want the VIP's email address exposed to anyone, and want to be able to either strip out or replace the email address in the to/from fields in all of the emails we want to send out.
I am not sure if something like this is possible with PowerShell, or exporting all of the emails to MSG and doing find/replaces with a batch processing program of some sort.
Does anyone have experience with something like this, and/or suggestions on how this might be accomplished?
Combetta was granted immunity by the Justice Department earlier this month during its investigation into Clinton's email accounts. He hasn't commented on the theory, but there's a decent amount of, uh, evidence connecting him with Stonetear.
An odd, old website for a video game, Betrayal at Krondor, seems to suggest that Combetta's email was stonetear@gmail.com at one point, and the profile picture for that Google account certainly resembles Combetta.
Other old forum posts appear to support the connection, including a 2002 claim that Stonetear was "being contracted to a state government."
Stonetear, the Redditor, deleted the thread after it started to gain some attention on Monday. The thread never addresses or brings up deleting emails, which was one of the most controversial aspects of the entire Clinton private email server controversy. Instead, the Redditor just asks how to hide someone's email address from archived content.
There's also an unverified video of another Redditor manually refreshing the user page for Stonetear's account, showing posts vanishing in real time.
Stonetear's account now has no posts, but is still active. The account's did not reply to a direct Reddit message from Inverse, but we'll update this story if it does. 
According to Representative Marc Meadows (R-N.C.), the U.S. House of Representatives's Oversight Committee is officially looking into the Reddit posts.
"The Reddit post issue and its connection to Paul Combetta is currently being reviewed by OGR staff and evaluations are being made as to the authenticity of the post," Meadows, who lead the Oversight Committee's Government Operations subcommittee, told The Hill.
If this is all true, and Stonetear is Combetta, then this is a hell of a dox by a community that claims to despise doxxing.