New Senate Bill Could Protect Mars Mission From Budget Cuts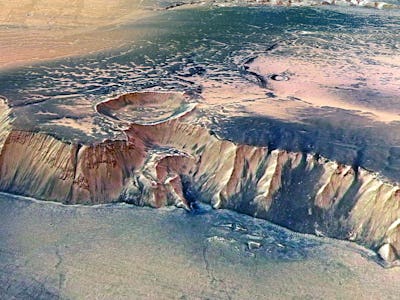 Getty Images / ESA
NASA's biggest fear isn't failure, an alien invasion, or a black hole swallowing the sun — it's budget cuts. Fortunately for the world's premier space agency, the U.S. Senate was watching its back this time.
This week, the Senate Commerce Committee will adopt a bipartisan-backed $19.5 billion authorization package for NASA that would safeguard the Mars mission program from any budget changes the next president might seek to make. The new bill seeks to prevent future cuts to projects directly related to NASAs goal to send astronauts to the red planet before 2040.
This would almost certainly include money allocated towards the development and testing of NASA's new heavy duty Space Launch System, the deep space Orion crew capsule, and any other long-term habitation technologies designed to help humans establish a permanent outpost on Mars. (It'll also let NASA keep doing cool tests like dropping Orion into giant swimming pools):
The bill calls for NASA to focus its long-term efforts on establishing "a capability to extend human presence, including potential human habitation, on the surface" of Mars before the century is over.
It's not a legally binding bill. Future presidents or lawmakers, or even NASA's own administrators would still be able to modify plans at their own discretion — and that's inevitable given the development of new technologies and fluctuations in funding over the next couple of decades.
Nevertheless, by using explicit language never before used in federal legislation related to NASA authorization measures, the bill would make it tougher for future administrations to cut funding for the Mars mission or scrap the mission altogether.
The new measure is notable for one very obvious (though unnamed) reason: Donald Trump is this year's Republican candidate for president. In contrast to his Democratic opponent, Hillary Clinton, Trump has been fairly critical about the idea of spending federal money on space exploration and research.
With support from both Republican and Democrats, the new bill may be Congress's way of trying to preempt unforeseeable actions from a Trump presidency.