The FAA's Drone Committee Meets Today: Here's What It Does
These 35 people could help shape drone policy for years to come.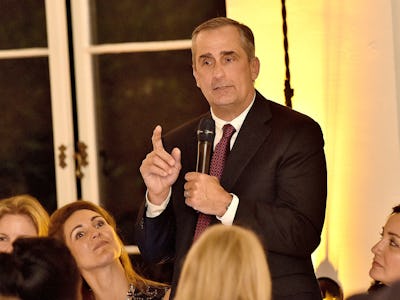 Getty Images / Mike Windle
We're currently somewhere around hour four of the day-long, first-ever meeting of the Federal Aviation Administration's Drone Advisory Committee in Washington, D.C.
Today's meeting isn't necessarily going to be earth-shaking, as the agenda mostly promises a day's worth of introductions, big-picture summaries, and suggestions as to what to discuss at the next meeting. But the simple fact the FAA has put together a long-term committee focused specifically on drones suggests just how seriously the government is taking the integration of drones into U.S. airspaces.
The chair of the advisory committee is Intel CEO Brian Krzanich, who as both a CEO and a licensed pilot is well-suited to see drone-related issues from multiple perspectives. Joining him on the massive 35-person panel are people from media, academia, politics, tech companies, and various transportation agencies, including representatives from Amazon Prime Air, Facebook's Aquila drone project, UPS, the National Air Traffic Controllers Association, American Airlines, and the Airline Pilots Association, plus San Francisco Mayor Ed Lee.
Advisory committees don't directly affect policy, so they're not about to be setting up a bunch of secret rules about where you can and can't fly your DJI Phantom. Rather, they do just what their name suggests: They meet to discuss issues both big and small in their chosen area and make recommendations that the FAA can then use as it sees fit. These committees are necessarily shaped by the interests — and, yes, the idiosyncrasies — of its members. For instance, Krzanich himself has talked in the past about 5G, the still hypothetical successor to 4G as the standard for telecom wireless, as absolutely essential to the successful use of drones in cargo shipping. It's a safe bet then that 5G will be a topic of this advisory committee, probably more than it would have been if someone other than Krzanrich were in charge.
Future meetings should reveal who of the 35 members are most engaged with the committee and most focused on getting their own particular perspective out there. In setting up the committee, FAA Administrator Michael Huerta said he wanted to get input from all sides in the attempt "to achieve that perfect balance between integration and safety." Depending on who emerges as the most influential voices on the committee, we should soon have a good sense of how this diverse group collectively views that balance.