Amazon Drone Delivery: 30 Minutes and 5-Pound Limits for 'Prime Air'
'I've seen it. It's gonna happen. It's coming.'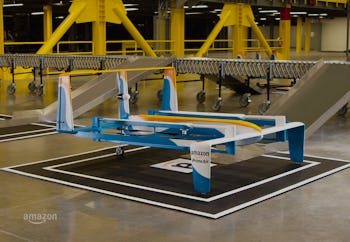 Amazon
Until recently, a drone-powered method of delivery was the kind of service that last-minute and compulsive shoppers could only dream of, but new details about Amazon's much-hyped Prime Air — which promises to deliver your packages via drone in as little as 30 minutes — offer a clearer picture of our delivery future.
The new automated drone delivery service will become as commonplace as any standard delivery truck, so says Amazon's Vice President for Global Public Policy, Paul Misener, in an interview, with Yahoo Tech's David Pogue.
Misener gives a little more insight into the delivery service that will undoubtedly revolutionize the shopping experience, namely that we don't need to be reasonable about expectations anymore, because drones will drop presents a mere 30 minutes after we decide we want them.
That is, as long as those presents weight less than five pounds — the payload weight limit:
Here's Misener:
"So Prime Air is a future delivery service that will get packages to customers within 30 minutes of them ordering it online at Amazon.com. The goals we've set for ourselves are: The range has to be over 10 miles. These things will weigh about 55 pounds each, but they'll be able to deliver parcels that weigh up to five pounds. It turns out that the vast majority of the things we sell at Amazon weigh less than five pounds."
Amazon is working with NASA on the current prototypes, while effectively positioning itself to be a pioneer of the concept. In November, Amazon released a video illustrating how the drones would work, but the demand for the service has expedited its development, making it set to lift off, no pun intended, much faster than originally expected.
The company also recognizes there's no one-size-fits-all delivery drone. The same drone that's used in arid, dusty Phoenix can't be used in Miami. Pogue asks about a future where Amazon delivery drones flood the sky and our ears with a constant buzz, and Misener says bringing down the volume is a challenge:
"…[I]f we design these correctly, they won't be loud and obnoxious and noisy. It's a really cool engineering challenge, it turns out. I mean, there are a bunch of challenges. But dampening the noise is one of them."
Misener also says the drones would fly in a so-called "transit zone" below 500 feet but above 200 feet:
"Between 200 and 400 feet would be a transit zone, where drones could fly fairly quickly, horizontally. And then below 200 feet, that would be limited to certain operations."
The Federal Aviation Administration must approve them as well. Misener explains to Pogue that he hopes the United States is the first country to get drone delivery service, but that may not be the case:
"Well, we have customers all around the world, of course. There's no reason why the United States must be first. We hope it is."
Misener feels that the disparity doesn't really make sense, stating that the FFA must begin "planning for the rules that are more sophisticated, that go to the kinds of operations that Amazon Prime Air will encompass."
And to skeptics, Misener offers this: "I've seen it. It's gonna happen. It's coming."