5 Scene-Stealing Characters to Look for on Fall TV 
From new shows like "The Good Place" to returning shows like "Vikings," here are Fall TV's most promising characters.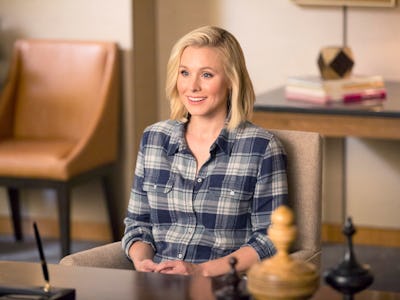 Fall television season is upon us, bringing intriguingly ambitious new epics like the robot-western Westworld and intimate comedies like Atlanta. But no matter how well-told a story is, what really keeps viewers returning to a show are the characters. Whether it's a fascinatingly complex anti-hero whose brain you want to pick like Black Sails' James Flint or a batty twenty-something who reminds you of your best friend like Broad City's Ilana Wexler, great television is nothing without great characters. Here are the people who promise to steal the most scenes on television this fall.
1. Eleanor in The Good Place
Don't be fooled by The Good Place's deceptively bland-looking posters. It's a network television sitcom with subject matter usually only found on artsy dramas like The Leftovers. But narrative aside, its protagonist Eleanor, played by Kristen Bell, promises to be an unapologetically batty, yet smart (read: Slytherin) heroine in the tradition of Broad City's Abbi and Ilana. The age of the anti-hero might be fading out with Walter White and Don Draper, but bring on the age of the anti-heroine.
2. The Man in Black in Westworld
Everyone in HBO's ambitious robot-western looks intriguing, particularly because the distinction between human and robot characters won't be immediately clear to the audience. Ed Harris' Man in Black might be the only one confirmed as a human — which makes it all the more intriguing that he's described as "the distillation of pure villainy into one man." Traditionally, any character described as a "Man in Black" is intriguing, whether it's the Man in Black in Stephen King's Dark Tower series, who will be played by Matthew McConaughey in the movie, or the Man in Black who is later revealed to be Westley as The Dread Pirate Roberts in The Princess Bride. This particular Man in Black will certainly be one to keep an eye on.
3. Rufus Carlin in Timeless
The new time-travel show, Timeless, has an equal chance of being a fun jaunt or promising concept that turns into a mess, like Once Upon A Time or Sleepy Hollow. But, regardless of which direction it goes in, Rufus Carlin is the character to keep an eye on. Not only because his name plays a homage to George Carlin's character in another famous time-hop (Bill and Ted's Excellent Adventure) but also because, as a black man who travels into the past, he's going into some potentially thorny but narratively rich territory. And so far, the show doesn't shy away from it.
4. The dog in High Maintenance
This former web series-turned premium cable show is getting a lot of attention for being the best show about New York City and a potential stoner classic, and that's all very good and well, but it's also a show about man's best friend. Yes, a dog features prominently in one particular stand-out episode, as you can see from his presence in even the brief trailer. Come for the weed, stay for the dog.
5. Ragnar's crazy-eyed son Ivar in Vikings
The first half of Vikings Season 4 was wildly uneven, benching Travis Fimmel's Ragnar far too often in favor of increasingly silly court politics and yet another change of heart from Clive Standen's wishy-washy Rollo. But the mid-season finale offered a promising turn by jumping forward in time and aging-up Ragnar's sons to give them a more active role in the story. Even in just his brief moment, Ragnar's crazy-eyed son Ivar (played with impressive menace and presence from relative newcomer Alex Høgh Andersen) stole the show. He's sure to have the best crazy-eyes on TV this fall.
And of course, we can't forget Bruce Campbell's chainsaw-wielding smartass Ash on Ash vs Evil Dead, or all the batty casting choices Scream Queens is making. Fall television will have no shortage of scene-stealing characters.