'The Dark Tower' Begins Filming: What to Know About Stephen King's Film
Idris Elba and Matthew McConaughey star in the most anticipated Stephen King adaptation.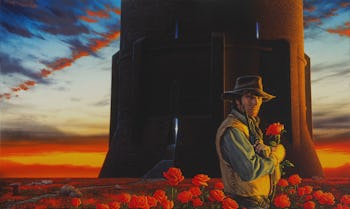 Michael Whelan
After years of fruitless development, the film adaptation of The Dark Tower, Stephen King's beloved fantasy-fiction, is finally a go. Fans have clamored for years to see the book on screen — King included — and as of Tuesday, principle photography of the film adaptation has officially begun.
Since this project has been in progress for years, here's a quick rundown of everything you should know.
While illustrations clearly depict a Clint Eastwood-type, Sony Pictures defied expectations and cast British actor Idris Elba in the lead role of the gunslinger, Roland Deschain. Meanwhile, McConaughey has been cast as the film's villain, the man in black. Casting a black actor for a character who has always been white stirred some outrage from lesser parts of the internet. But most fans (and King, himself) are thrilled to see what an intense actor like Elba can bring to the iconic character.
As for McConaughey, he recently did an interview with MTV and he sounds very excited for his role as the man in black, despite not being "a big sci-fi buff". The man in black is an evil sorcerer who looks to reach the tower before the gunslinger. "I can be whoever I want to be in this one" says McConaughey, so we expect a crazy turn from the prolific actor.
Aaron Paul, Tom Taylor, and a few undisclosed roles.
Another prominent actor, Aaron Paul has been lobbying for a role in the film adaptation since before Sony bought the distribution duties. While not officially confirmed, a few hints from the actor himself at least attaches Paul's name to the project publicly. An actor who is confirmed? Tom Taylor, a relative unknown who will play Jake Chambers, a young boy who joins the gunslinger on his adventure.
It will be an adaptation of 'The Gunslinger', the first book in the series
This film is intended to kick-off a whole series of films in The Dark Tower universe, and if all goes according to plan, then there are plans to continue adapting as many books in the eight book series.
This film has been in development for years
Beginning in 2007, The Dark Tower was kicked around by various directors and studios. The film changed hands from Universal Pictures to Warner Bros, HBO, and finally Sony Pictures. To say that fans have been teased with a film is an understatement. Various studios have announced many times in the past that a film was forthcoming, only for fans to be left disappointed.
Many directors tried; Nikolaj Arcel succeeded
Several high-profile directors have been attached to The Dark Tower film project since as early as 2007. Originally, J. J. Abrams was set to direct a film adaptation with his Lost co-creator Damon Lindelof. Unable to get the production off the ground, Abrams left in 2009. A year later, Ron Howard became the next director attached to an adaptation that moved from a film, to a TV/Movie project where the novel would be adapted for both the big and small screen. Finally, Nikolaj Arcel, a Danish filmmaker best known for the Mads Mikkelson starring A Royal Affair and penning the original Girl With the Dragon Tattoo movie, was tapped for directing. Arcel will be looking to bring a classic touch to the fantasy western, as demonstrated by his artful period piece, A Royal Affair. Having written the famed Dragon Tattoo film also should mean he's no stranger to dark thrillers.
The film is set to release in February 2017.