Matthew McConaughey Would Fulfill Stephen King's Villain Vision for 'The Dark Tower'
'True Detective' alum is not only the best choice for the Man in Black. It's who Stephen King would want.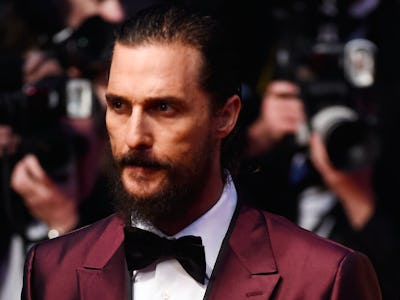 Getty
Stephen King's magnum opus, The Dark Tower, is slowly but surely becoming a feature film. The project has enlisted Girl With the Dragon Tattoo director Nikolaj Arcel at the helm while its lead stars remain, ahem, in the dark.
And now, Hollywood's uncomfortably hot uncle Matthew McConaughey has been tapped by Sony to portray the Man in Black, the series' main antagonist. Whether or not McConaughey accepts the role, there is probably no one else better suited to play Randall Flagg.
While we're approaching the tail end of the McConaissance, the actor's aloof, removed disposition that has marked this chapter of his career provides the right tools he'd need to play the enigmatic villain of Dark Tower.
While Flagg/the Man in Black isn't the kind of guy who spends the afternoon binge-drinking (McConaughey in True Detective), Flagg is deceptive in presence. He's unsettling but commands attention (him in Killer Joe). With the right directing, that could easily be McConaughey.
As King readers know, the Man in Black is a dark sorcerer in both King's The Dark Tower — an apocalyptic fantasy western — and The Stand — also an apocalyptic fantasy. The character first appeared in the King poem, "The Dark Man," written while he was in college.
King was quoted in an interview back in 2004 describing the Man in Black as "this guy in cowboy boots who moved around on the roads, mostly hitchhiking at night, always wore jeans and a denim jacket…"
"The thing about him that really attracted me was the idea of the villain as somebody who was always on the outside looking in," King added, "and hated people who had good fellowship and good conversation and friends."
King also said the Man in Black should be played by someone who "would make the ladies' hearts go pitty pat, that looked like the type of guy you would see on the cover of one of those sweet, savage love paperback romances."
In the introduction to The Gunslinger, the first volume of The Dark Tower series, King suggested Robert Duvall. Jamey Sheridan acted in the 1994 TV miniseries adaptation of King's The Stand.
McConaughey could also benefit from a turn as a villain in a major genre property. He was offered the lead unnamed villain in Marvel's Guardians of the Galaxy Vol. 2 before turning it down. This year, he starred in Gus Van Sant's The Sea of Trees, which was critically reviled and laughed out of the Cannes Film Festival.
From romantic comedies to TV prestige to awfully pretentious projects, now is as good a time as any for McConaughey to continue going against the type of character he played early in his career, and keep embracing his darkness.